The BlackMagic Camera app transforms your iPhone into a professional movie camera. It allows you to adjust important settings like how fast your video plays back, the color balance, and the video quality, all with just a few taps.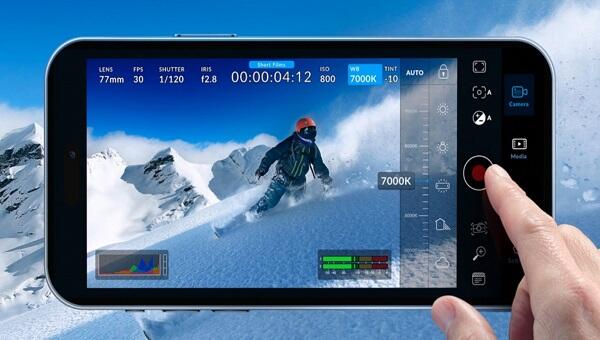 Five Key Features of BlackMagic Camera
Create Cinematic Content
With BlackMagic Camera, your phone becomes much more than just a regular camera. It's like having a tiny Hollywood-style camera in your pocket. You can make videos for platforms like YouTube and TikTok that look like they were shot for the big screen. This app lets you change the look of your videos to match those of big movies by adjusting how light or dark they are (ISO), the color temperature (white balance), and how sharp they are (frame rate and shutter angle).
Easy Interactive Controls
Forget about digging through menus. This app makes it simple to change settings. Just tap on the screen. Want to start recording? Just a tap away. Need to change how bright or dark the video is? Tap the ISO. It's all at your fingertips, easy and fast. Plus, there's a heads-up display (HUD) that shows you everything you need to know about your recording settings.
Professional Quality Video
Choose from high-quality video formats like 10-bit Apple ProRes. This means your videos look more detailed and true to what you see in real life. And with the option to record in 4K, your content is not just ready for today's screens but for future ones too.
Cloud Collaboration
Recording to Blackmagic Cloud means you can work with others on editing projects no matter where they are. As soon as you record your video, it can be sent off to the cloud, where your team can start working on it right away. This is great for news teams or documentary filmmakers who need to work fast.
On-the-Go Editing
With the media tab, you can look at all your clips, sort them, and check their upload status. You can even start putting together your project on DaVinci Resolve, a professional editing tool, right after shooting. This makes it easy to go from filming to editing without any delay.
Best Tips for Using BlackMagic Camera
Focus on Composition
With autofocus, it's easy to just tap and shoot. But take a moment to frame your shot. Use the rule of thirds, which is a grid on your screen to help place important parts of your video. This makes your content more engaging.
Manage Your Storage
High-quality videos take up a lot of space. Make sure to save your clips to the BlackMagic Cloud or your phone's files folder. This way, you don't run out of space when you're about to capture that perfect moment.
Utilize Audio Options
Good sound is key. Use an external microphone if you can. The app lets you choose this option for better audio.
Play with Angles
Since your phone is smaller than a traditional camera, use it to get creative shots. Shoot from high above or down low. The app lets you keep control even in these tricky spots.
Keep Your Workflow Smooth
Use the live sync feature to start editing quickly. With proxies (smaller versions of your videos), you can start the edit while the high-quality originals are still uploading. This saves precious time.
Pros and Cons
Pros
Professional Tools: The app gives you control over advanced settings like shutter angle and white balance.

High-Quality Video: Record in 4K with options for formats used by professionals.

Ease of Use: Interactive controls make it simple to adjust settings on the fly.

Collaboration: Easily share and work on projects with others via cloud storage.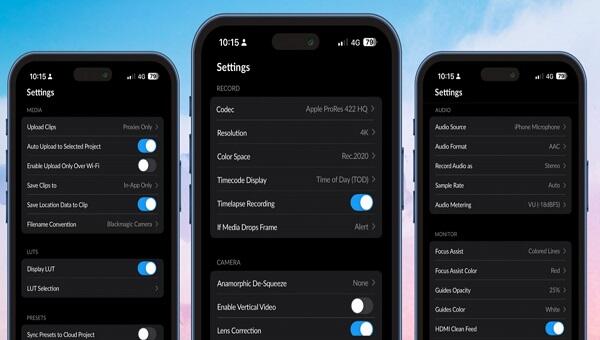 Cons
Storage Space: High-quality formats can quickly fill up your phone's storage.

Learning Curve: While the app is user-friendly, there's a learning curve to using professional features.

Battery Usage: Using the app, especially when recording in 4K, can drain your battery faster.
Similar Apps to BlackMagic Camera
FiLMiC Pro: Another app that turns your phone into a professional video camera with manual controls.

Cinema FV-5: Offers professional camera settings for Android devices, a good alternative for non-iPhone users.

ProCam 8: A camera app for iPhones with manual controls, video recording, and slow-motion capabilities.
Conclusion
The BlackMagic Camera app is a powerful tool that brings high-end filming capabilities to your iPhone. It's designed for both seasoned professionals and beginners looking to up their video game. With a bit of practice, anyone can produce stunning, cinematic-quality videos.
Free Download BlackMagic Camera APK v1.0.28 Latest Version for Android
Ready to make movie magic with your iPhone? Download the BlackMagic Camera from Getmodnow.com, a trusted source for apps. Get started on your cinematic journey today!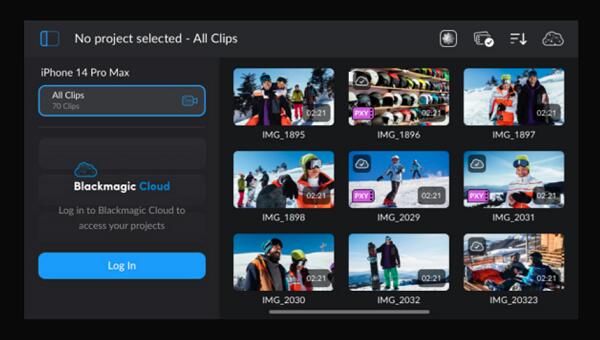 Frequently Asked Questions (FAQ)
How can I make my videos look more professional using my phone?
Adjust the brightness level, color temperature, and sharpness to enhance your video's quality. The app provides simple touch controls to change these settings quickly.
What should I do if I'm running out of space while recording?
Use the app's option to save your videos directly to the cloud or your phone's file storage. This helps manage your space efficiently while recording high-quality videos.
Can I get better sound quality in my videos with this app?
Yes, you can connect an external microphone to improve audio quality. The app allows you to select this option for clearer sound in your videos.
I want to shoot from different angles. How can I use my phone for this?
Your phone's compact size lets you shoot from various positions, like high or low angles. The app maintains control of the settings, so you still get the perfect shot.
How can I work on my video projects with a team using this app?
The app uploads your footage to the cloud, where your team can access and edit it in real-time, making collaboration easy and efficient.