Fantasy Hike App Android: step count app with great graphics
The pedometer and calorie app is a great app to track your health. It uses built-in sensors to calculate steps from which you can plan to lose weight or keep fit by walking. If you love such an application and have an attractive combination of graphics, Fantasy Hike App Android is the perfect choice for you. Find out about this cool app through our article below right away!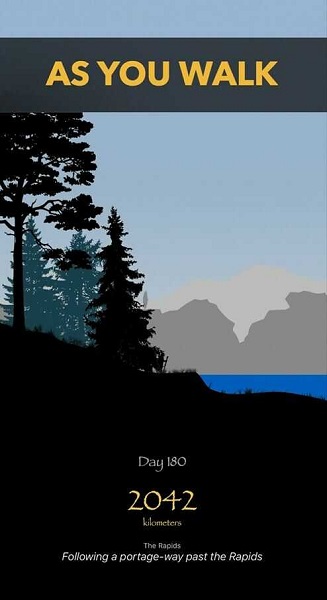 What is Fantasy Hike App Android?
If you love mountain climbing or adventure through forests, you will love the amazing visuals of the Fantasy Hike App Android. This application is an application that tracks the user's movements such as walking, jogging, climbing, and any movement of your body. As long as you have your phone in your pocket and have this app installed, it will count your steps.
Developer Forge7 AB has brought users a brand-new health and fitness app. It allows you to transform into athletes who are completing mountain climbing races and exploring different roads and peaks by the number of steps you take each day. The beautiful scenery will give you a lot of motivation and excitement to continue exercising.
What are the outstanding features of Fantasy Hike Android APK?
Fantasy Hike App APK has completely new features compared to other pedometer apps. You should continue to read the information below to better understand it.
Encourage you to walk and exercise
Fantasy Hike App is an ultimate and great tool for people who are adventurous and have a great imagination. Every step you take and move will be measured and allow your character to go further on your challenging journey. It is represented by a character who is leaning on a cane and climbing a mountain, your symbol will go through the slopes and reach the top of the highest volcano.
You can look back at how many miles or kilometers you've traveled since the first day you used the app. Users will feel proud of the efforts and journey that you have gone through. You can climb stairs, walk your pet, and jog in the gym. They all count toward the number of steps on this app. It encourages exercise and a healthier lifestyle.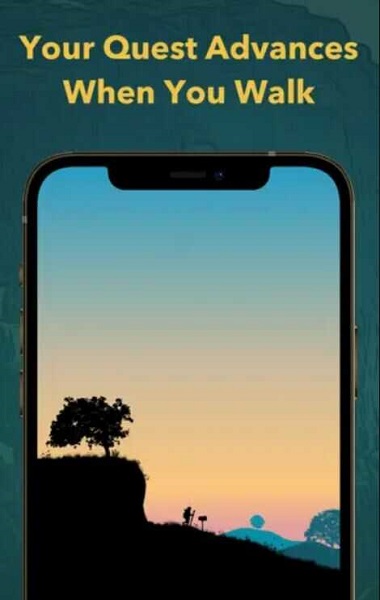 Impressive graphics
This application has a great and user-friendly interface. Anyone can enjoy wonderful views on this app. The forests, the mountains, and the colorful sky in the distance make you look at them endlessly while walking. It works all day without causing lag and jerky for your device.
Many interesting missions to complete
Fantasy Hike Daily Activity Tracker APK will give you a task for you to complete and receive points daily. The score will measure your hard work and effort. That task could be walking 1000 steps, completing a 3km walk every day, or jogging for 5 minutes. These short-term tasks are easy to complete and it helps you to be less passive and sedentary all day.
In addition, there is a ranking of those who have progressed the farthest on the app's journey. You can join and compete on this "track" with them.
Synchronize data with smart devices
If you have smartwatches like Apple Watch or Samsung Watch, you can integrate them with this application to synchronize all your parameters and journeys. Virtual graphs, statistics, and health indicators are presented visually and vividly. They are easy for you to follow and use. On the other hand, this application saves PIN and does not take up much memory in your device. Display your distance traveled with the most commonly used international units of measurement such as miles, kilometers, or total steps.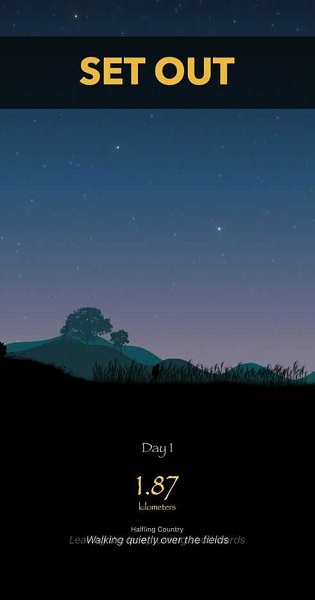 Fantasy Hike for Android Download
Currently, this application is available on both Google Play Store and App Store, you can choose any store you want to download. It's completely free but there will be a bit of advertising. If you want to download Walk to Modor App Android, please choose from the reputable websites or platforms that we mentioned above.
Conclusion
Fantasy Hike App Android allows you to display your time, walking distance, and calories burned. It will encourage you to walk more to discover interesting journeys in this game.