Firefox, loved by many for its user-friendly vibe and dedication to privacy, stands out as a top-notch internet browser. It's designed to offer a smooth internet experience, giving users control over their online activities with various customization options.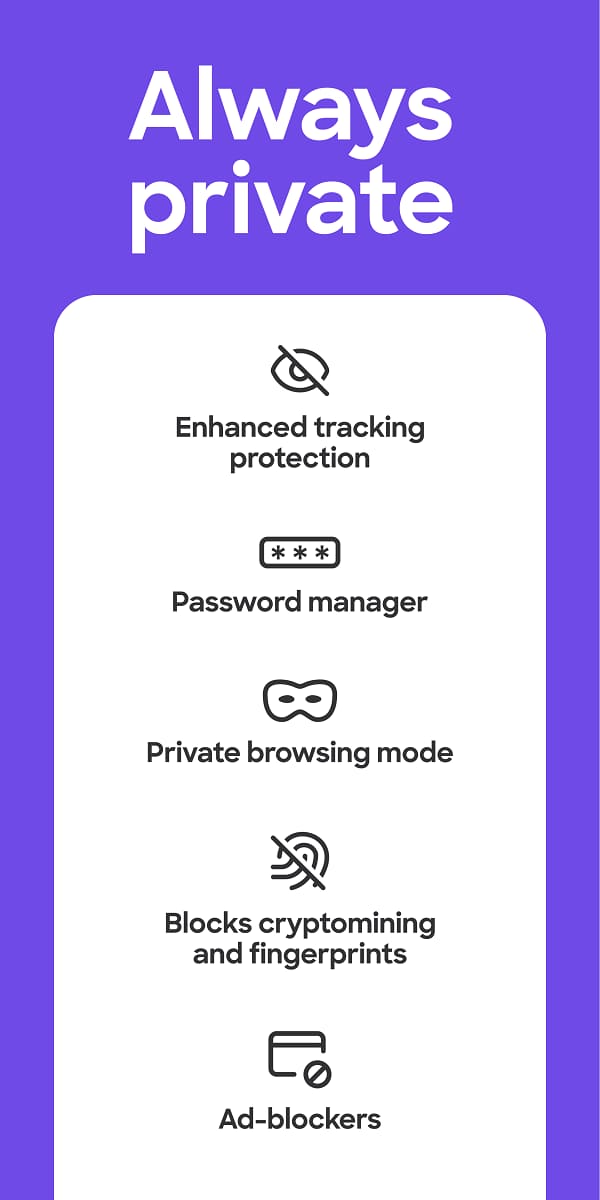 Five Key Features of Firefox
Privacy and Security:
Firefox stands out for its strong commitment to user privacy. From its start in 2004, the browser has emphasized protecting user data. It automatically blocks trackers and harmful scripts. But the Enhanced Tracking Protection can block even more trackers, like social media and fingerprints, for stronger privacy. For those wanting even stronger privacy, the Enhanced Tracking Protection can be set to "strict," ensuring a secure browsing experience in all windows. Moreover, the ability to surf in private is a standout aspect of this. With this, you can explore the internet freely, knowing your browsing history isn't being kept. Once you close the private browsing mode, your history and cookies get automatically deleted from your device.
Sync Across Devices:
Firefox makes switching between devices seamless. You can start a search on your laptop and continue it on your phone, or vice versa. Your browser's got your back, effortlessly syncing your bookmarks, tabs, and even passwords across all your devices. So, you're never out of touch with your info - it makes web browsing a seamless and connected experience.
Customization and Add-ons:
Firefox is renowned for its high level of customization. Because Firefox lets you customize how it looks with different themes and wallpapers, including special designs from independent artists. With Firefox, you've got a world of add-ons at your fingertips that can enhance privacy, block ads or even ramp up productivity - all adding to an already dynamic browsing experience. These add-ons can boost Firefox's already robust privacy settings or add new features, like ad blockers or productivity tools.
User-Friendly Interface:
The browser's interface is designed for ease of use. Its streamlined home screen shows your open tabs, recent bookmarks, and top sites. Plus, you'll find a bunch of article recommendations from Pocket to dive into. Firefox displays open tabs as thumbnails and numbers them, making navigation simple and intuitive. The search bar, all souped up for peak performance, throws in handy suggestions and fast tracks you to your most-frequented sites.
Accessibility and Convenience:
Firefox has adapted keyboard shortcuts for touch screens, adding a layer of convenience for mobile users. For example, you can add a website to your favorites by simply shaking your device. This feature demonstrates Firefox's commitment to providing a browser that is not only powerful but also accessible and easy to use for everyone.
Best Tips for Using Firefox
Utilize Private Browsing:
To keep your browsing history confidential, use Firefox's private browsing mode. It's perfect for sensitive searches as it doesn't save your history, and cookies are cleared once the session ends. It's a great way to ensure your online activities stay private.
Sync Your Devices:
Make the most of Firefox's sync feature. By logging into your account on different devices, you can access your history, bookmarks, and open tabs from anywhere. This is especially useful if you switch between a phone and a computer often.
Organize with Bookmarks and Tabs:
Keep your favorite websites handy by bookmarking them. Firefox's tab management system also makes it easy to keep track of multiple pages. Organize tabs in a way that works best for you, using the thumbnail view for quick access.
Customize with Add-ons:
Explore Firefox's vast library of add-ons. Whether you need tools for productivity, ad-blocking, or just fun themes to personalize your browser, there's likely an add-on for it. Regularly check for new add-ons to enhance your browsing experience.
Adjust Privacy Settings:
Explore Firefox's privacy settings and adjust them to your preference. If you're particularly concerned about online tracking, set the Enhanced Tracking Protection to "strict." Remember, more stringent settings might affect how some websites function.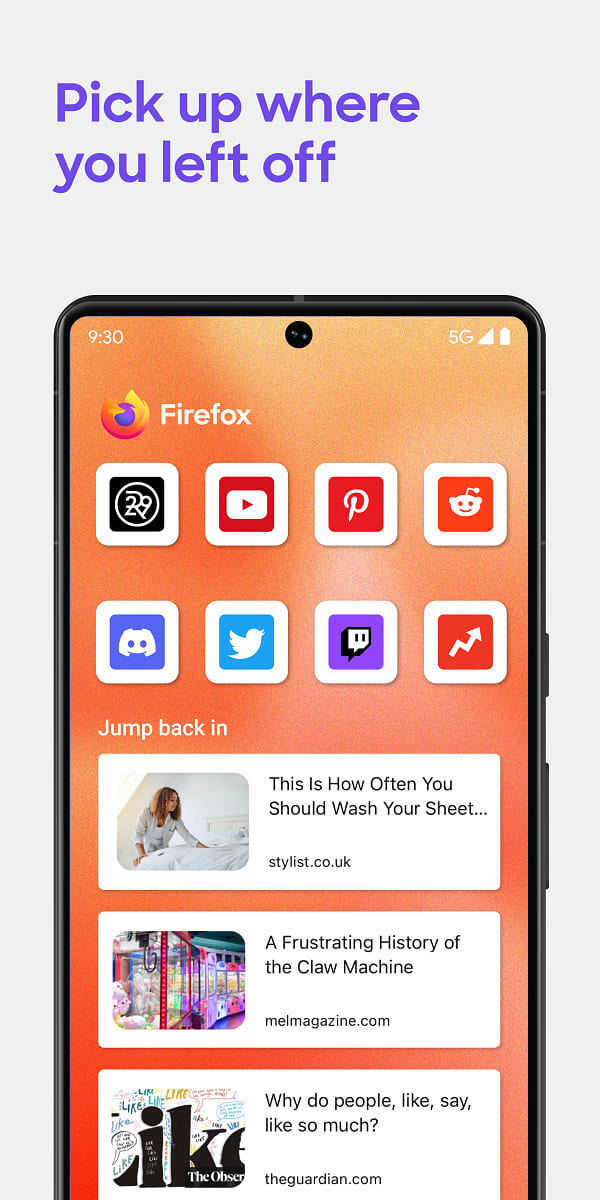 Pros and Cons of Firefox
Pros:
Strong Privacy Features: Firefox's focus on privacy and security is a major plus, offering extensive protection against trackers and harmful scripts.
Customization Options: With numerous themes, wallpapers, and add-ons, Firefox allows a high degree of personalization.
Syncing Across Devices: The ability to sync tabs, bookmarks, and passwords across devices enhances the user experience, ensuring continuity.
Cons:
Potential Compatibility Issues: Some websites might not work perfectly with strict privacy settings or certain add-ons.
Resource Usage: Firefox can be resource-intensive, particularly with multiple tabs or add-ons running, which might affect performance on older devices.
Similar Browsers to Firefox
Google Chrome: Known for its speed and integration with Google services.
Microsoft Edge: Offers a smooth experience, particularly for Windows users, with good privacy options.
Opera: A less mainstream choice, known for its built-in VPN and ad-blocker.
Conclusion
Mozilla Firefox stands out as a privacy-focused, customizable, and user-friendly browser. Its commitment to user privacy, along with its sync functionality and customization options, make it a trusted choice for many users.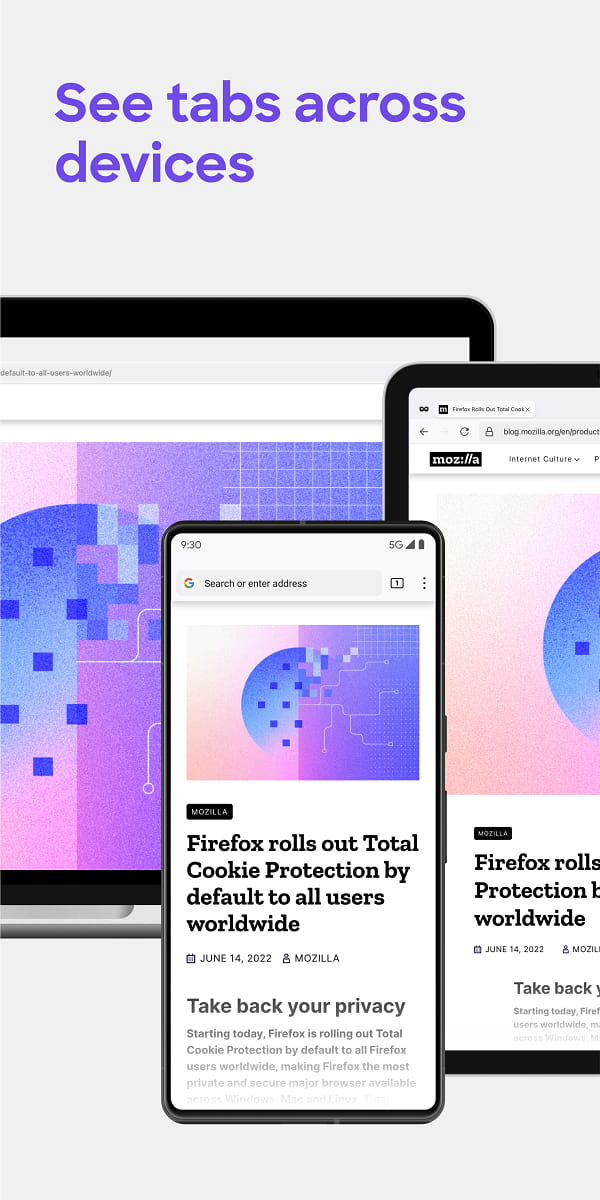 Free Download Mozilla Firefox APK Latest Version for Android
Interested in trying Firefox? Download it from a trusted source like Getmodnow.com. Experience a browser that prioritizes your privacy, offers seamless syncing across devices, and allows for extensive customization to suit your browsing needs.