Penly lets you plan, take notes, and edit PDFs on your Android. Penly nails it with its sleek handwriting functions, tailor-made tools, and a versatile digital planner teeming with unique templates – making it the MVP for sorting out your personal world and professional gigs.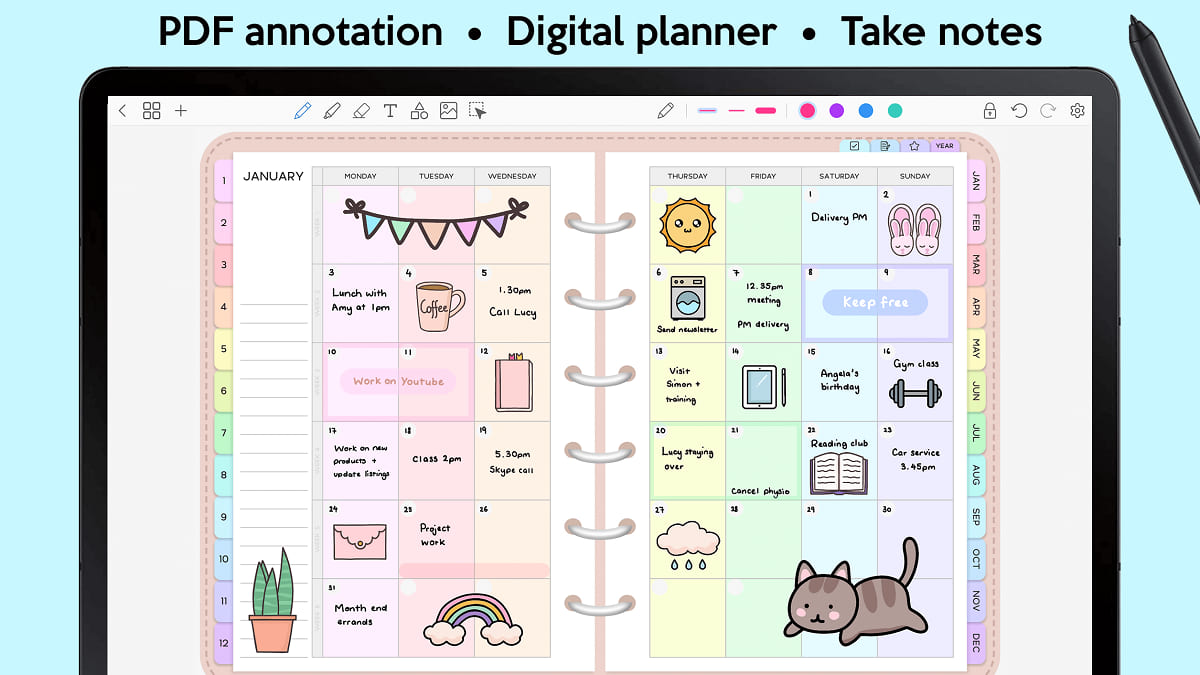 Five Key Features of the App
Handwriting and Drawing Tools
One of the most impressive aspects of this app is its handwriting and drawing features. Users can write or draw using a stylus, like the S Pen or Xiaomi Smart Pen, which mimics the natural feel of writing on paper. The app lets you pick different pen types to make your writing and drawing your own. With the color wheel tool, you've got a rainbow of colors to choose from for your pen and highlighter, letting you really make your notes your own.
Another cool feature is the easy-to-use snap straight highlighter, perfect for effortlessly underlining and bringing attention to text. Moreover, you can drop in photos, tweak images as you see fit and doodle different shapes – giving a complete arsenal for your creative and systematic note-jotting needs.
Digital Planner Functionality
The digital planner included in the app is a standout feature for those who love staying organized. It comes with hyperlinked monthly, weekly, and daily pages, all of which are undated and reusable. This means you can write in the dates yourself and use the planners year after year. You can grab these planners in both vertical and horizontal layouts, sporting various designs from a subtle black aesthetic to blush hues paired with vibrant rainbow patterns. These planners are ace for penning down ideas, managing to-dos and staying on top of your day-to-day game.
PDF Editing and Management
Penly excels in handling PDF files. Users can import any PDF into the app and navigate it using existing hyperlinks. There is also an option to export files as editable Penly documents or as PDFs. Although editing large PDFs has limitations, the app's PDF annotation tools remain incredibly useful for students and professionals.
On top of that, Penly gives you the power to whip up and keep tabs on your own folders and subfolders, simplifying how you sort out your documents. Because the app lets you make and organize folders, keeping your documents tidy is a cinch.
Custom Hyperlinks and Stickers
Creating custom hyperlinks within any document is a unique feature of Penly. With Penly, you can make any object a clickable link that takes readers to other pages or websites, making your documents more interactive. On top of that, the app has a cool sticker feature which lets you import loads of stickers all at once, neatly arrange them into collections and pop them onto any document with ease. But stickers let you customize your notes and add some fun.
Sync and User Interface
The app's ability to sync across Android devices is a significant advantage. By linking Google Drive to the app, users can sync their documents either manually or automatically whenever the app is opened or closed. With this feature, your work is just a click away on any device, ensuring it's always safeguarded and ready for action.
The user interface of Penly is also worth mentioning. So, this app is pretty much a breeze for anyone to use, no matter how good or bad they are with tech stuff. The English language support ensures that it is easily understandable for a vast audience.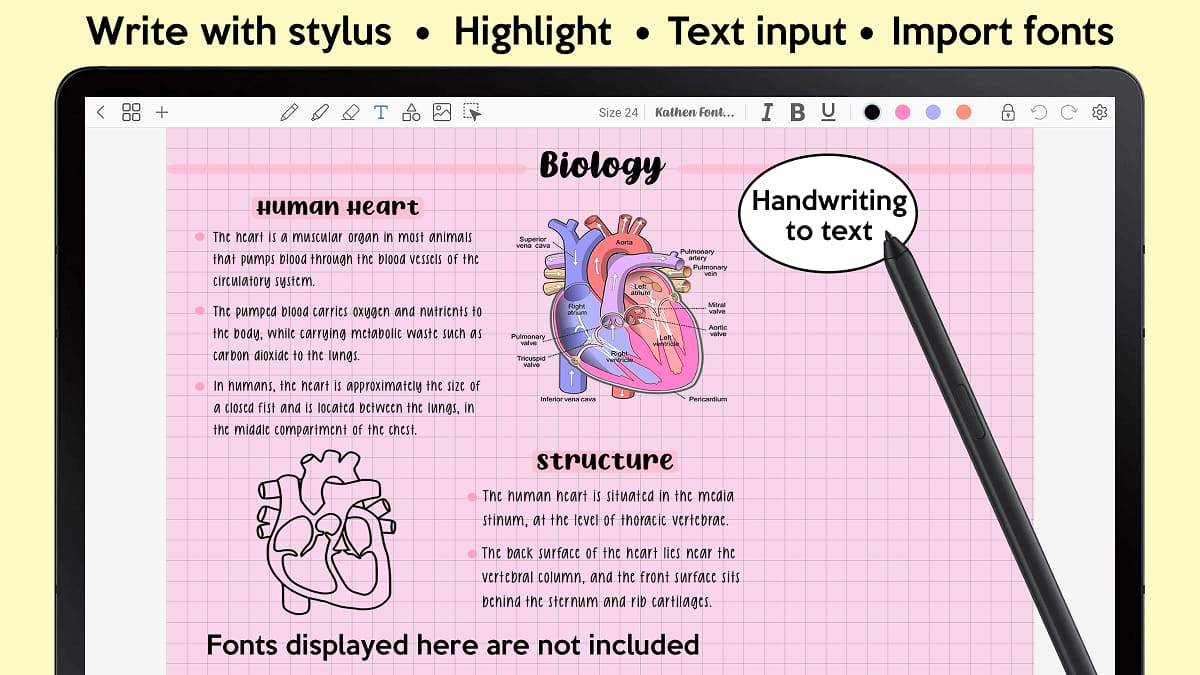 Best Tips for Using Penly
Utilize Customization for Efficient Note-Taking: Take advantage of the various pen colors, thicknesses, and styles. Experiment with different styles, like the brush or fountain pen options, to find what works best for your note-taking and drawing needs.

Maximize the Digital Planner: To get the most out of the digital planner, personalize it according to your schedule. Use the undated templates to start planning any time of the year and explore different planner styles to see which layout suits your needs best.

Optimize PDF Usage: When working with PDFs, use the annotation tools to highlight and make notes directly on the documents.

Organize with Folders and Hyperlinks: Keep your documents well-organized by creating folders and subfolders. Use the hyperlink feature to connect different notes and documents, making navigation within the app seamless and efficient.

Sync Regularly for Data Safety: Regularly sync your data with Google Drive to ensure your notes and planners are backed up. This habit is crucial to avoid losing important information.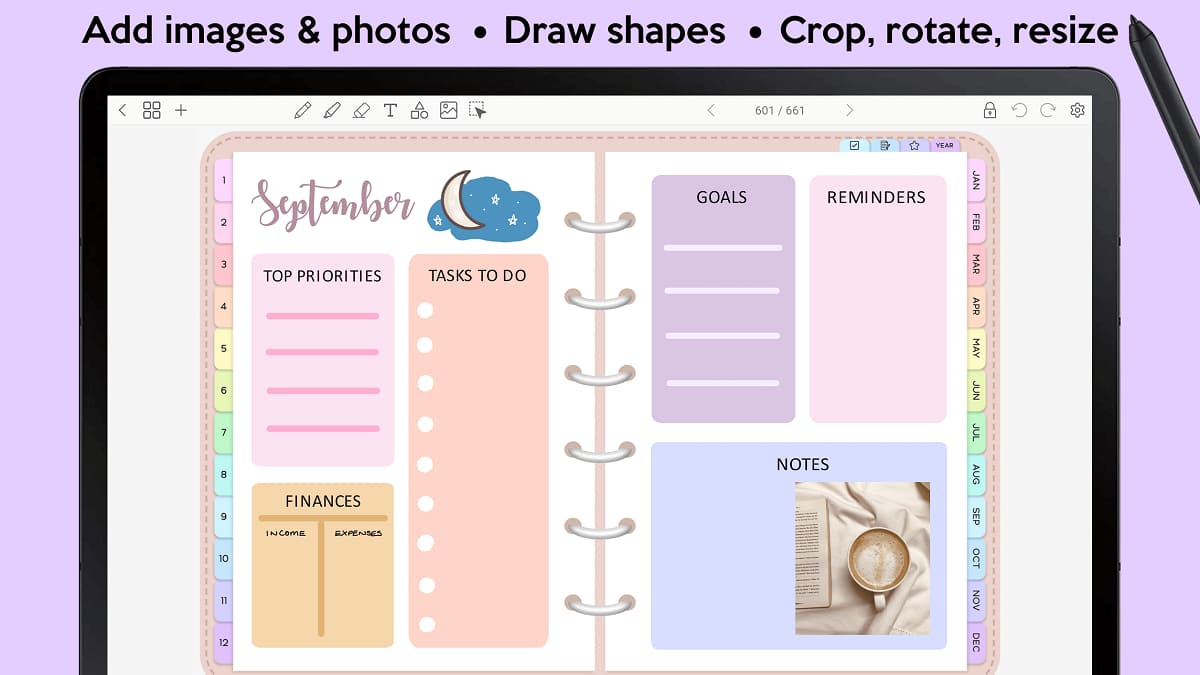 Pros and Cons of Penly
Pros:
Versatile Writing and Drawing Tools: The range of customizable pens and the smooth handwriting experience are major advantages, especially for users who prefer handwritten notes.

Comprehensive Digital Planner: The undated, hyperlinked planner pages offer great flexibility and are useful for both personal and professional planning.
Cons:
Limitations with Large PDFs: Users might experience difficulties when exporting content-heavy PDF files, as the app can crash under these circumstances.

Limited Language Support: Currently, Penly only supports English, which can be a barrier for non-English speaking users.
Similar Apps to Consider
Any.do: This app is known for its task management and calendar features, making it a good alternative for those focused on to-do lists and scheduling.

Todoist: Ideal for users looking for an app with robust task management capabilities and integration with various other services.

Microsoft OneNote: A great option for those who need a note-taking app that integrates seamlessly with Microsoft Office products.
Conclusion
Penly stands out as a comprehensive, user-friendly digital planner and note-taking app, suitable for both personal and professional use. While it has some limitations, particularly with handling large PDFs, its strengths in planning, note-taking, and synchronization offer a significant advantage.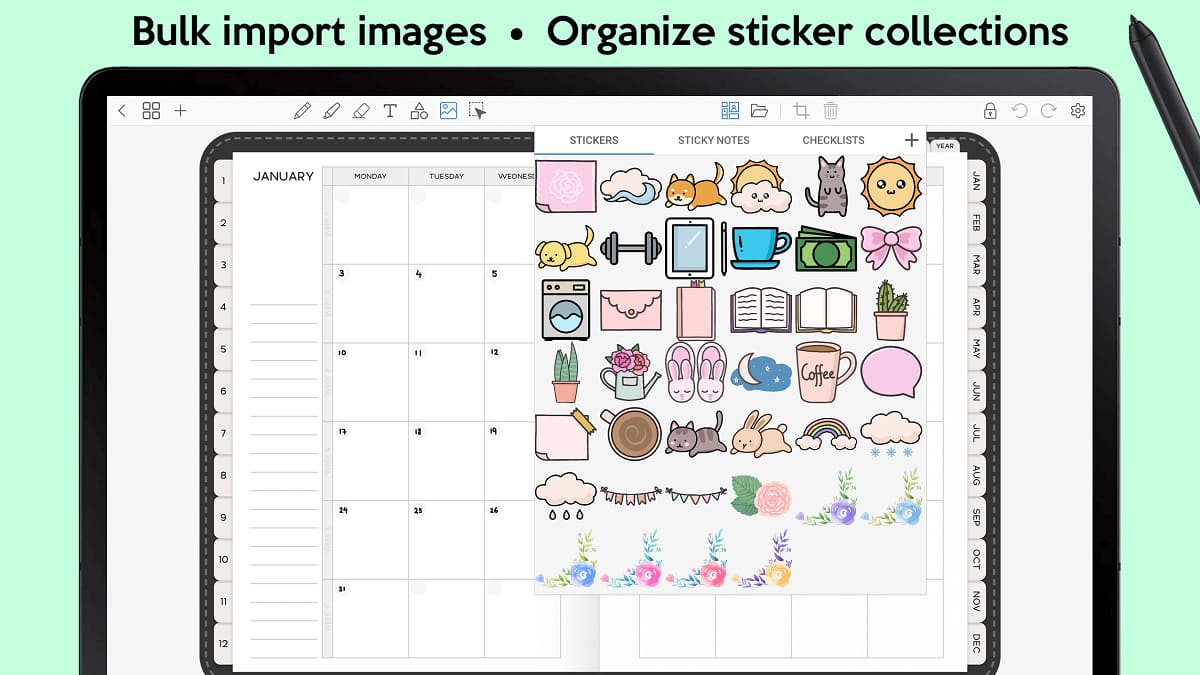 Free Download Penly APK Latest Version for Android
Ready to organize your life digitally? Download Penly from Getmodnow.com, a trusted source for your app needs. Discover the convenience and flexibility of digital planning and note-taking with Penly today.
Can I use a stylus for writing notes in the app?
Yes, you can use a stylus, like the S Pen or Xiaomi Smart Pen, for smooth handwriting and drawing within the app. It provides a natural writing experience similar to pen and paper.
Is it possible to personalize my digital planner?
Absolutely! The app includes undated planners that you can customize with your own dates.
How does the app handle PDF files?
You can import any PDF into the app for reading and annotation. While you can also export these files, be aware that exporting large PDFs might cause the app to crash.
Can I sync my notes across different devices?
Yes, by linking your Google Drive account, you can sync your documents across multiple Android devices, either manually or automatically.
What should I do if I encounter issues with the app?
If you experience problems, you can contact the support team at [email protected] within 7 days of your purchase for assistance or to request a refund. They aim to respond within 2 working days.