Phone Clone is an app created by Huawei. It helps you move data from an old phone to a new Huawei phone. This includes contacts, messages, photos, and more. It's easy to use, fast, free, and safe.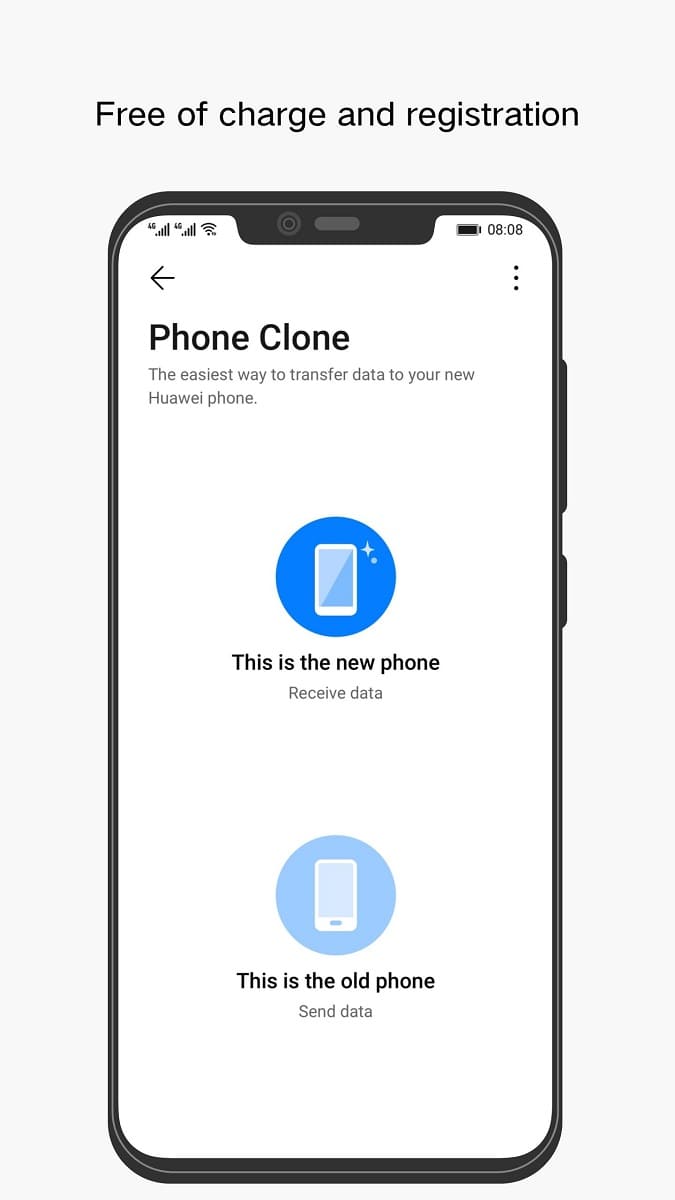 Five Key Features of Phone Clone
Ease of Use and Speed:
One of the best things about Phone Clone is how easy it is to use. You don't need to be a tech expert. The process is straightforward. First, you install the app on both phones. Then, you choose what data to move. This can be contacts, messages, photos, and apps. The transfer is very fast. It's like moving things from one room to another in your house, quick and simple.
Supports Many Types of Data:
With Phone Clone, you can move various types of data. This includes your contacts (phone numbers and names), messages (texts you've sent and received), call logs (list of calls made and received), calendar events (your plans and appointments), notes (your reminders and lists), photos, music, and videos. Even your app data, like game progress, can be moved. This means when you start using your new phone, it feels just like the old one.
No Internet Needed:
An excellent feature of Phone Clone is that it doesn't use the internet. This means you won't use up your data plan. The transfer happens over a private connection between the two phones. It's like having a direct phone line between your old and new phone. This makes the process fast and doesn't cost you extra money.
Works With Different Phones:
Phone Clone is not just for Huawei phones. It also works if you're moving data from an iPhone or another Android phone to a Huawei phone. This is great because it means more people can use it. It's like having a universal key that opens many doors.
Safe and Secure:
Keeping your data safe is very important. Phone Clone makes sure your data is secure during the transfer. It's like moving your things in a locked safe. Your data is protected, and only you can access it on your new phone.
Best Tips for Using Phone Clone
Prepare Your Phones:
Before you start, make sure both your old and new phones are charged. This ensures that the process won't stop halfway because of a dead battery.
Choose What to Transfer:
Look through your old phone. Decide what you really need on your new phone. This could be your contacts, favorite photos, and important messages. Think about what matters most to you.
Stay Close:
For the best transfer speed, keep the two phones close to each other. This helps in making the data move faster and more smoothly.
Check Storage Space:
Make sure your new phone has enough space for the data you are moving. If it's full, you might need to delete some things you don't need.
Be Patient:
Even though Phone Clone is fast, transferring a lot of data can take time. Be patient and let it finish the process.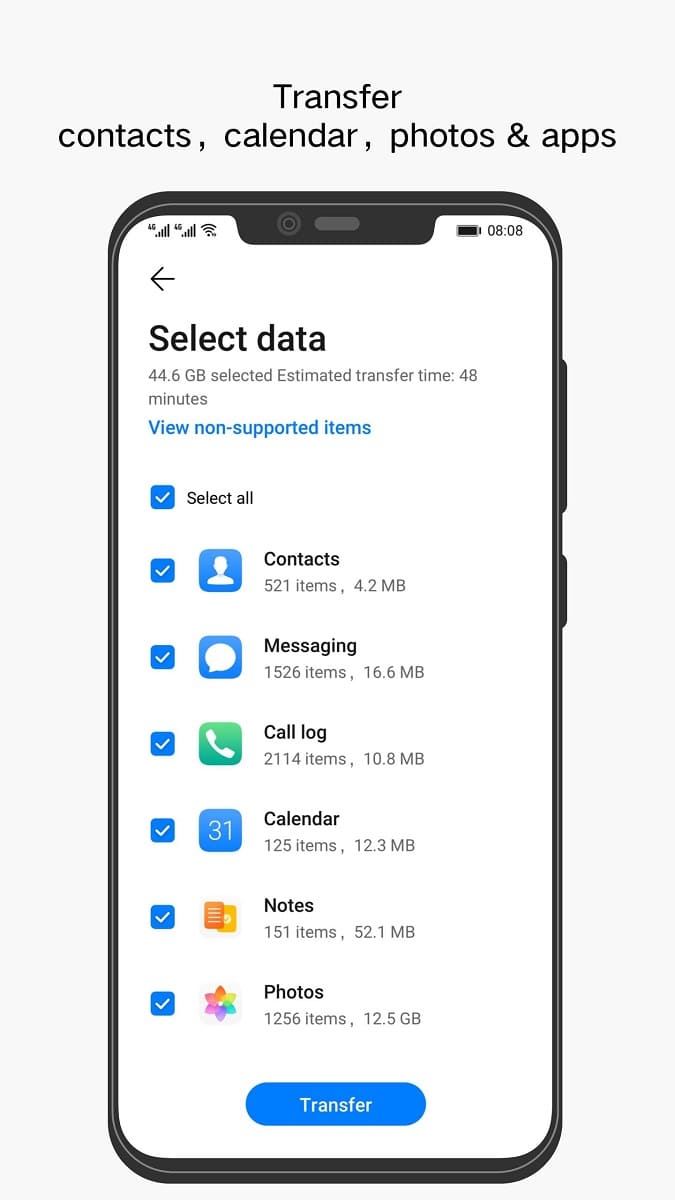 Pros and Cons of Phone Clone
Pros:
Easy to Use: It's simple and user-friendly. Anyone can use it without needing much tech knowledge.

Fast Transfer: Moves data quickly, saving you time.

No Internet Needed: Saves your data plan as it works without the internet.

Secure: Keeps your personal data safe during transfer.
Cons:
Limited to Huawei: Works best with Huawei phones. If you have a different brand, some features might not work.

Depends on Phone Model: Older phones might not support all features.
Alternatives to Phone Clone
Google Drive: Use it to back up data on your old phone and restore it on the new one.

Samsung Smart Switch: Great for transferring to Samsung devices.

SHAREit: Another app for transferring files between phones.
Conclusion
Phone Clone is a useful tool for moving data to a new Huawei phone. It's easy, fast, and secure. It helps make the transition to a new phone smooth. Remember the tips for a successful transfer and consider the pros and cons when choosing this app.
Download Phone Clone
Ready to switch to a new phone? Try Phone Clone! You can download it safely and easily at Getmodnow.com. It's a trusted source for apps. Get Phone Clone today and move your important data with ease!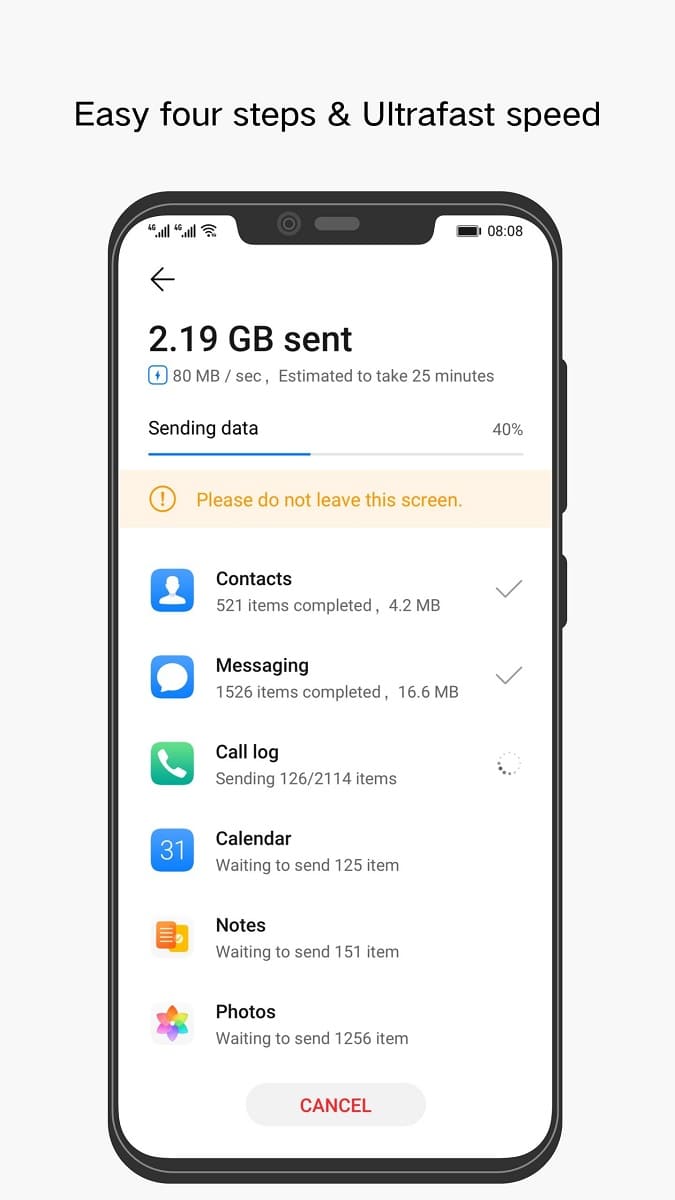 Frequently Asked Questions (FAQ)
How can I make sure my phone's battery doesn't run out during the transfer?
Before starting the transfer, charge both your old and new phones fully. This ensures the process won't be interrupted by a low battery.
What should I do if I have too much data to transfer to my new phone?
First, check how much storage space is available on your new phone. If needed, remove files or apps you don't use. Then, select only essential data for the transfer.
Is it possible to transfer data from an iPhone to a Huawei phone using this app?
Yes, the app supports transferring data from different operating systems, including from an iPhone to a Huawei phone.
How can I protect my personal information during the transfer?
The app is designed to be secure, keeping your data protected during the transfer. Just make sure to use it in a private setting to prevent unauthorized access.
What if the app doesn't transfer some of my data?
If certain data doesn't transfer, check if your old phone's operating system version is compatible. You might also consider using alternative methods for specific data types, like cloud services.