ReadEra is a sleek e-reading app that serves as a one-stop-shop for devouring your digital library. It supports a plethora of formats without any ad interruption or the need for an internet connection.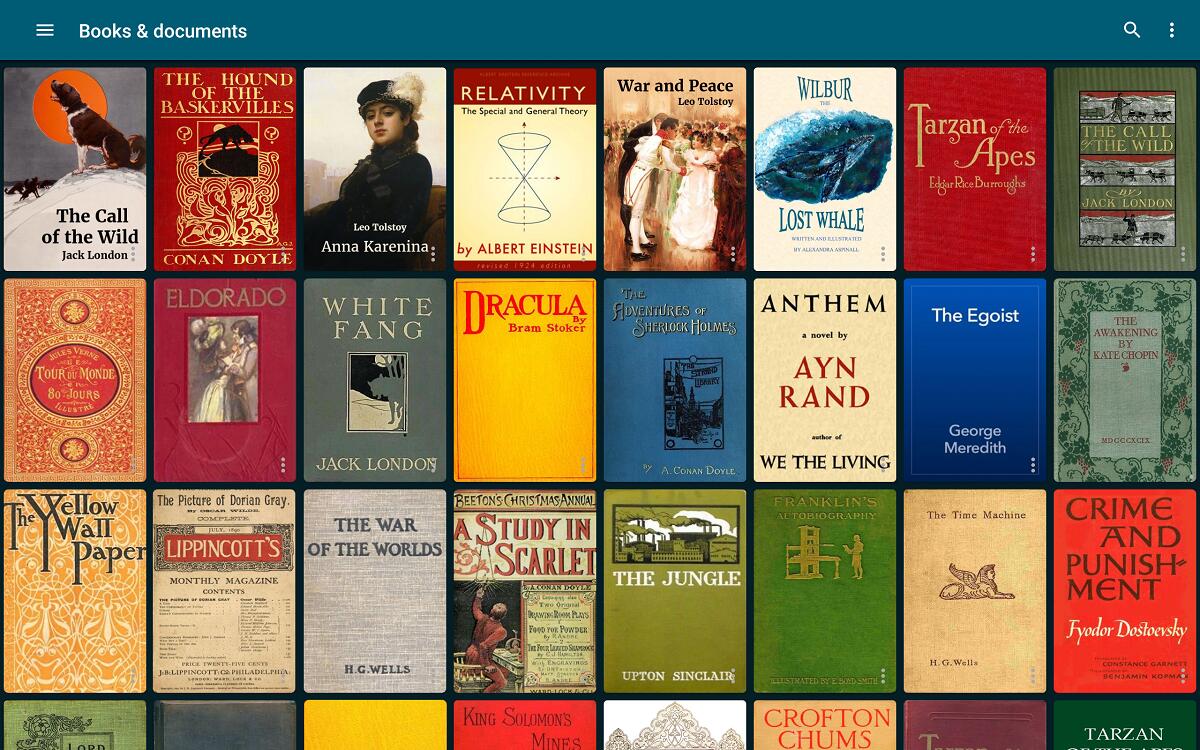 Top 5 Features of ReadEra
Extensive Format Support
The crowning glory of ReadEra is its ability to tackle an extensive array of document formats. Whether it's a casual TXT, an academic PDF, a corporate DOCX, or your favorite EPUB and MOBI eBooks, ReadEra handles them all with ease.
EPUB & MOBI: It's not just about opening the file; the app brings out the format's potential, offering a comfortable reading experience akin to a physical book.

PDFs: The app shines with features like margin cropping and a single-column mode that transforms scanned book layouts into reader-friendly single pages.

Office Documents: ReadEra organizes your DOCX or ODT files by titles, making navigation as easy as flipping through a notebook.
Library Management
No more scrolling through file directories to find your books. ReadEra smartly auto-detects documents and organizes them into a neat library on its own.
Auto-detection and Organization: Downloads go straight into your reading list. Your collections can be as varied as your tastes, sorting books by authors, series, or your custom shelves.

Collections and Lists: Create lists for every mood—'To Read,' 'Have Read,' 'Favorites'—you name it, ReadEra sorts it.
Customizable Reading Experience
Reading is personal and ReadEra gets it. The app's settings adjust to your comfort, not the other way around.
Visual Comfort: Night owls and beach readers are cared for with color modes like night, sepia, or the bright console.

Reading Flow: Flip pages your way—horizontally or vertically—and adjust the font size, spacing, and even the screen brightness for a strain-free reading session.
Intelligent Memory Management
ReadEra is like a wizard for your phone's memory. It doesn't duplicate files but remembers your place in them even if they're moved or deleted.
Bookmarking Smarts: Keep your bookmarks and last read page intact, no matter where your files go.

SD Card Freedom: Space is not a constraint; ReadEra happily runs your library off an SD card.
Multi-Document Reading
Juggling multiple documents at once? ReadEra has a multi-window mode that lets you cross-reference and enjoy different documents simultaneously.
Split-Screen Reading: Open two documents side-by-side for comparative reading.

Active Apps Switching: Toggle between books and documents without losing your spot, thanks to the active apps button.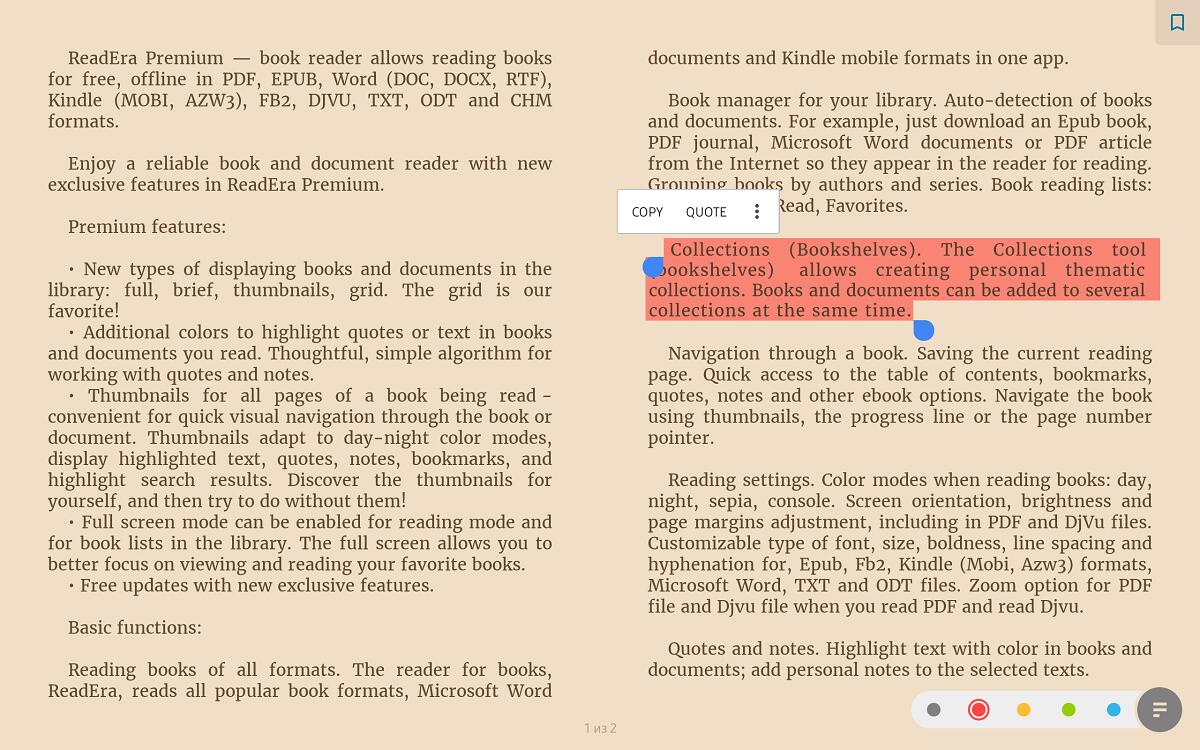 Best Tips for Using ReadEra
Maximize the Multi-Document Feature: Use split-screen to compare texts or reference notes while reading.

Customize Your Library: Make full use of the Collections tool to categorize books that cater to different moods and needs.

Adjust for Comfort: Experiment with all the visual and page flipping settings to find your perfect reading setup.

Use the Progress Line: This handy tool helps you gauge how much you've read and how much you have left at a glance.

Kids Mode: Turn on Kids Mode for a child-friendly interface and peace of mind with parental controls.
Pros and Cons of ReadEra
Pros:
All-in-One Format Support: It's incredibly convenient to have one app for all formats.

No Ads or Registrations: A seamless experience with no interruptions or data privacy concerns.

Customizable Reading: Tailored to your visual comfort and reading preferences.

Memory Efficiency: Smart usage of device storage and memory.
Cons:
No Cloud Sync: Your progress isn't backed up to the cloud, so device changes can be cumbersome.

Limited Social Features: While you can share reviews, there's not much in the way of community interaction.
Similar Apps to ReadEra
Amazon Kindle: A giant in e-reading with a vast bookstore.

Moon+ Reader: Another versatile e-book reader with great customizability.

Adobe Acrobat Reader: A go-to for PDF files, though less focused on eBooks.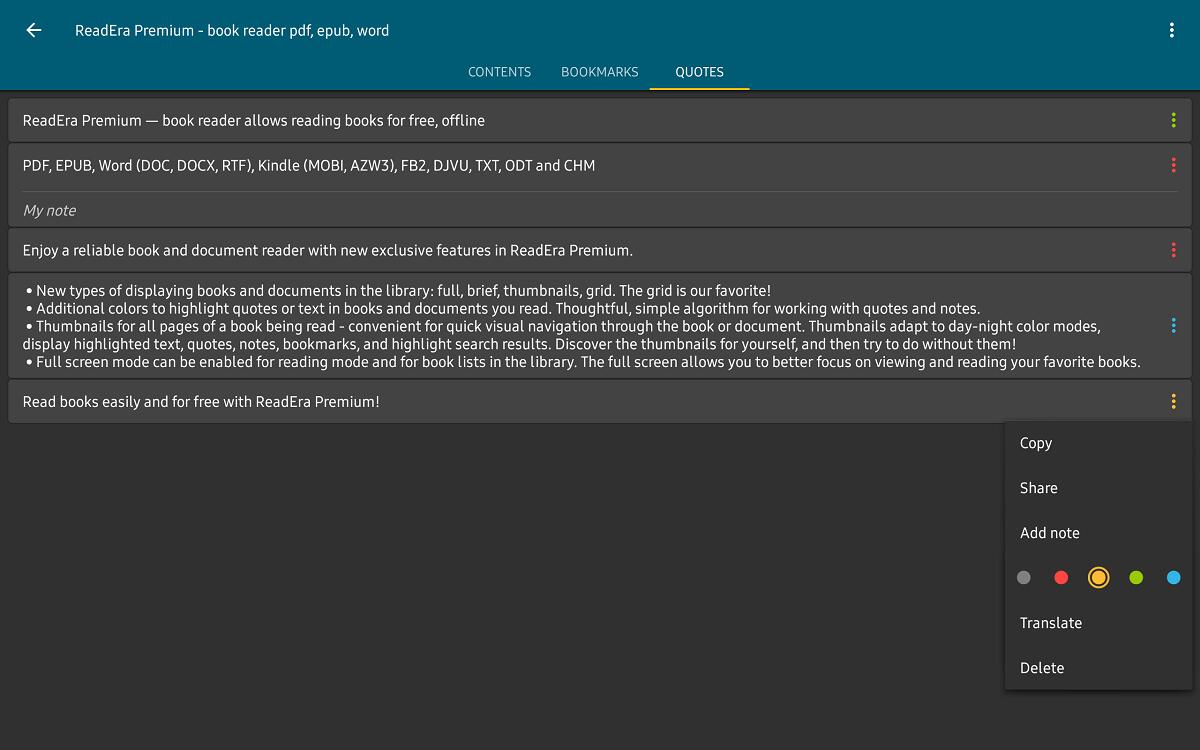 Frequently Asked Questions (FAQ)
What is ReadEra and what can I use it for?
ReadEra is a versatile e-book reader app that allows you to read a wide range of book and document formats like PDF, EPUB, MOBI, DOCX, and more, all ad-free and without the need for an internet connection once the content is downloaded. It's designed for seamless reading on Android devices.
Does ReadEra work offline and is it really free of charge?
Yes, ReadEra is designed to work offline, so you can read your books anywhere, anytime. It's completely free to use, with no hidden costs, no ads, and no requirement to register or subscribe.
How does ReadEra help manage and navigate through my e-book library?
ReadEra comes with an auto-detection feature that organizes your books and documents automatically. It also offers navigation tools like bookmarks, highlights, and reading progress tracking. You can group books by authors, series, and create collections to personalize your library.
Can ReadEra read multiple document formats, and does it offer any specialized reading modes?
Yes, ReadEra supports a multitude of document formats including comic book formats like CBZ and CBR. It has specialized reading modes for different formats, and it provides convenience features like margin cropping for PDFs, content structuring for DOCX files, and a night mode for comfortable reading in low light.
What are the advantages of ReadEra's multi-document mode, and does it offer any features for kids?
The multi-document mode allows you to read multiple books or documents simultaneously, for example, by using the split-screen feature. For younger readers, there's a Kids mode that simplifies the interface and includes parental controls to filter content, ensuring a child-friendly reading environment.
Conclusion
ReadEra is an undeniably robust e-reading application that champions versatility and user comfort. It cuts the clutter with its ad-free, no-sign-up service, keeping you engrossed in your books and nothing else.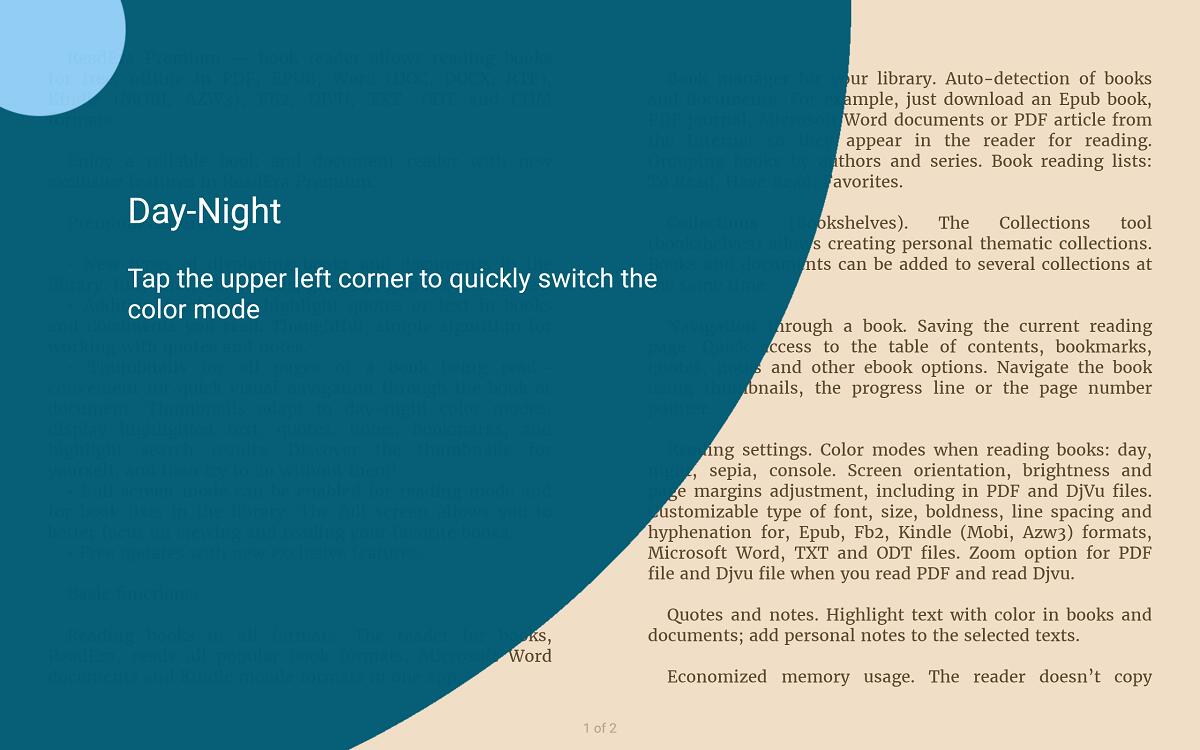 Free Download ReadEra Premium APK Mod (Full Version) Latest Version for Android
Immerse yourself in your favorite texts with ReadEra. Swing by Getmodnow.com, a trusted source, to download the app and jumpstart your digital reading journey today!