TradingView, a platform both newbies and experts love, cleverly melds groundbreaking features into one seamless tool that makes it the first choice for traders. TradingView arms you with a dynamic blend of charting, analysis, and social interaction tools in one easy-to-navigate hub. But TradingView lets you visualize market trends, strategize with technical indicators, and connect with millions to exchange trading insights, while tracking real-time data.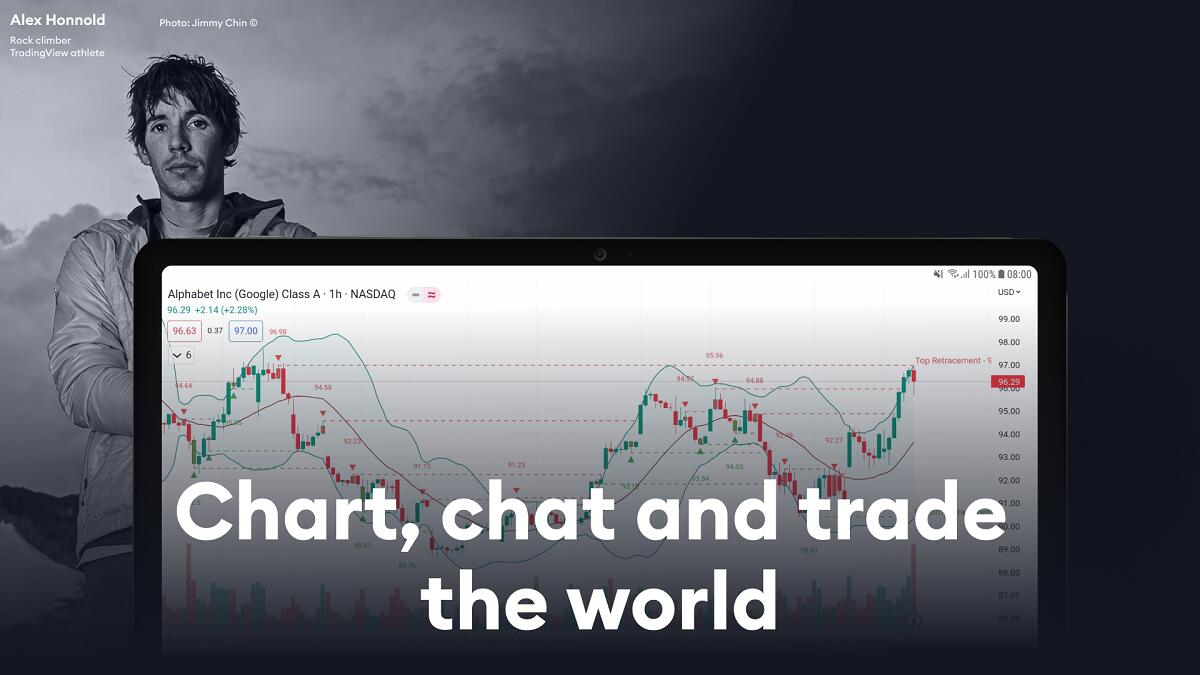 Five Key Features of TradingView
Advanced Charting Tools
TradingView's charting capabilities are unrivaled in their complexity and user-friendliness. Traders can select from over ten chart types, including traditional line and bar charts to more intricate Renko and Kagi charts, which filter out market noise and focus on price changes. The platform's drawing tools are equally robust, offering users the ability to annotate charts with Gann fans, Fibonacci retracements, and Elliot Waves. Whether you're a day trader looking to capture short-term profits or a long-term investor identifying secular trends, TradingView's charting suite adapts to your analytical needs.
Social Networking Component
At its core, TradingView is a social network for traders and investors. TradingView taps into the shared smarts of its users. Users can publish trading ideas, providing rationales with visual chart evidence, and receive instant feedback from peers. This community aspect isn't just about sharing; it's a learning environment. Newbies in trading can pick up a thing or two about market behavior and tactics by watching what seasoned traders do, a learning experience that no book could ever provide. Moreover, TradingView's social feed is customized to your interests, ensuring you're always in the loop on the financial instruments and markets you care about most.
Real-Time Data and Alerts
Staying updated with real-time market data is crucial, and TradingView ensures you never miss a beat. Whether it's stocks, futures, Forex or even crypto, you'll get the latest info right when it happens with this platform. Set up personalized alerts, and you'll be notified the moment your specified conditions are met. These alerts keep you in the loop when there's a swing in price, a shift in trend, or if specific technical markers hit your set limits. For traders who know the value of timing, TradingView's alert system is an indispensable tool for capitalizing on market opportunities.
Cross-Platform Syncing
In the modern world, trading isn't confined to a desk. TradingView's cross-platform syncing allows for seamless transitions between devices. Start your analysis on your desktop at home, make adjustments on your tablet during your commute, and execute trades on your phone from anywhere. Your charts, watchlists, and alerts stay up to date across all platforms. This feature is more than a convenience; it's a necessity for traders who value mobility and time efficiency.
Global Market Access
TradingView isn't just about U.S. markets; it's a window to financial markets around the globe. With data from over 50 exchanges, including major ones like NYSE, NASDAQ, and LSE, as well as emerging markets, users can track everything from the Dow Jones to the NIFTY 50. For those looking to diversify internationally or traders interested in the implications of global events on local markets, TradingView's worldwide reach is an invaluable feature.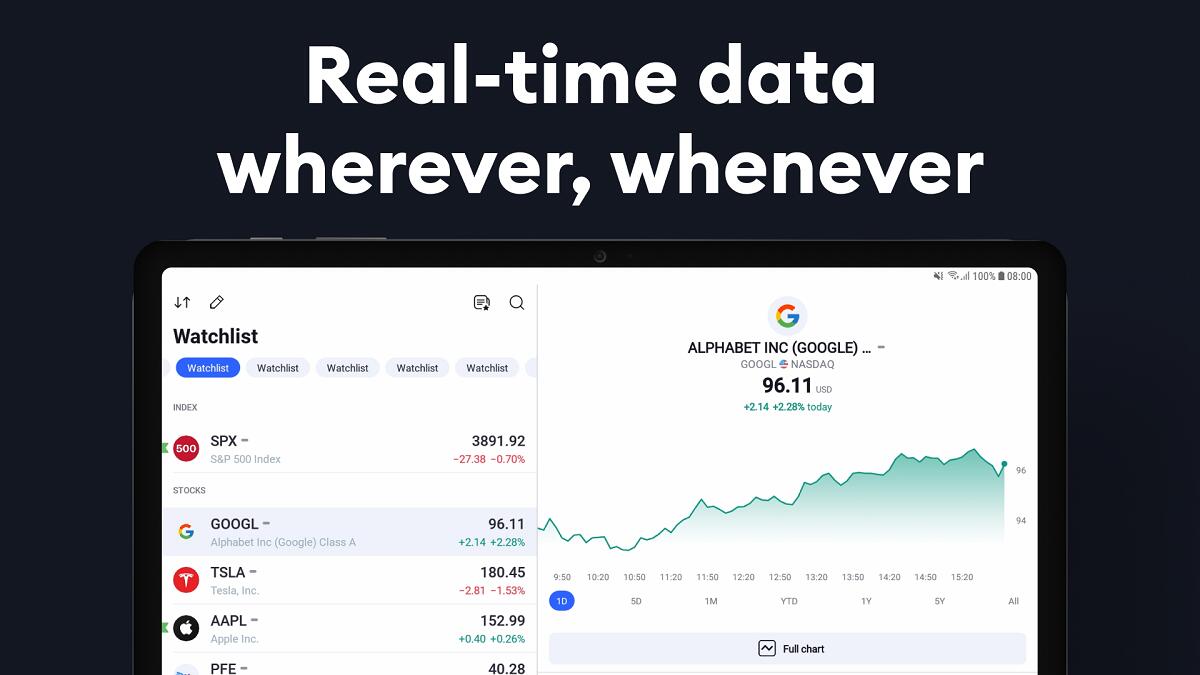 Best Tips for Using TradingView
Maximizing the potential of TradingView can give you an edge in the financial markets. Here are the best tips to make the most out of this versatile platform:
Customize Your Workspace: TradingView allows you to personalize your charting area fully. So, make sure to shape your workspace around the tools and data you frequently use – it's like customizing a personalized toolkit. But setting up your space to make getting info and tools easier can help you work faster.

Integrate with Your Brokerage: For many traders, executing trades directly from the platform is a game-changer. TradingView's integration with various brokerages makes this possible, allowing you to trade without switching windows.

Utilize Community Scripts: One of TradingView's unique features is its open-source script library. Users can access thousands of custom indicators and strategies written by other traders. Trading custom indicators and strategies from others can give you new perspectives and game plans.

Regularly Backtest Strategies: The platform's backtesting tools allow you to test your trading strategies against historical data.

Engage with the Community: Don't just observe—participate. Joining in the community chats can give you fresh perspectives, helpful criticism, and even a chance to find a mentor.
Pros and Cons of TradingView
Pros:
Comprehensive Toolset: Whether it's charting, technical analysis, or backtesting, TradingView has a broad array of tools that cater to all levels of trading expertise.

Real-Time Data: Access to real-time data across a wide range of markets ensures that you are always making decisions based on the latest information.

Community Engagement: The platform's social networking aspect provides opportunities for learning and sharing with a large community of traders.

Cross-Device Syncing: The ability to sync your settings and data across multiple devices allows for a seamless trading experience.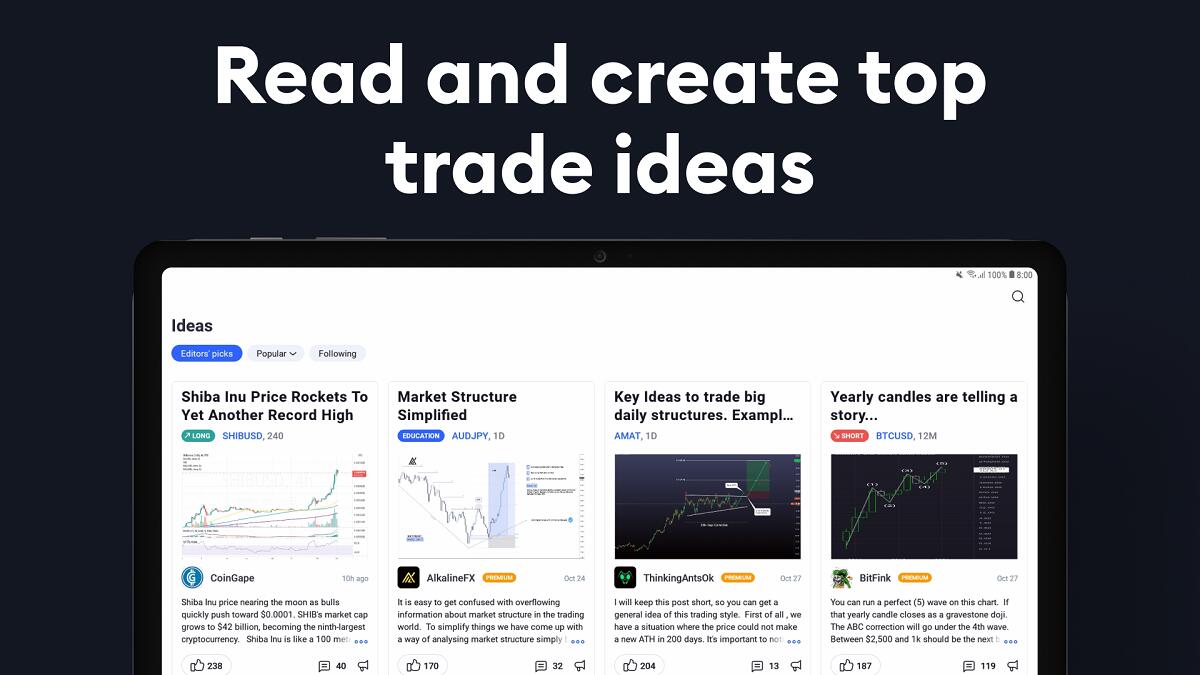 Cons:
Learning Curve for Beginners: The sheer volume of features can be daunting for newcomers, who may find the platform overwhelming at first.

Premium Features at a Cost: While TradingView offers a free version, the most powerful tools and features require a paid subscription.
Alternatives to TradingView
While TradingView is comprehensive, some traders may seek alternatives:
MetaTrader 4/5: These platforms are widely used for Forex trading and offer robust charting and automated trading capabilities.

Thinkorswim: Offered by TD Ameritrade, this platform is known for its powerful tools and is a favorite among U.S. traders.

eToro: For those interested in social trading and cryptocurrency markets, eToro provides a user-friendly interface and social features.

Coinigy: Crypto traders looking for a dedicated platform with high-quality tools may find Coinigy to be an ideal choice.
Therefore, small businesses and startups must strategically allocate their limited marketing budgets to maximize impact.
Conclusion
As a dynamic platform, TradingView effortlessly meets the diverse trading needs with its well-crafted toolkit and data resources. TradingView gives traders a one-stop shop to analyze, strategize, and connect with other traders in real time. Whether you're a seasoned investor or just starting, TradingView offers resources that can help elevate your trading game.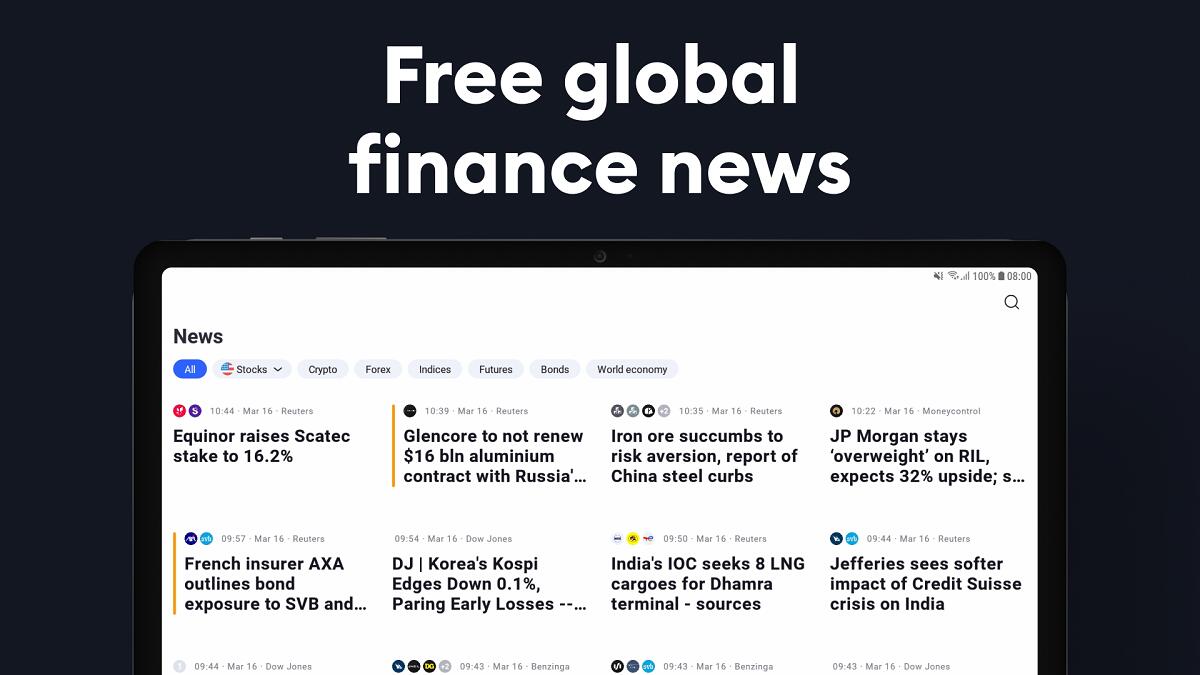 Free Download Tradingview Mod APK (Premium Unlocked, Premium Account, Premium Price) Latest Version for Android
Ready to take your trading to the next level? Download TradingView from Getmodnow.com today and join a global network of traders and investors who are leveraging the power of this dynamic platform to stay ahead in the markets.