Imagine the tense atmosphere of horror and a strategic game of cat and mouse, all rolled into one. That's Ultimate Custom Night in a nutshell. This game is a horror survival simulation where strategy and quick reflexes are your best tools for making it through the night.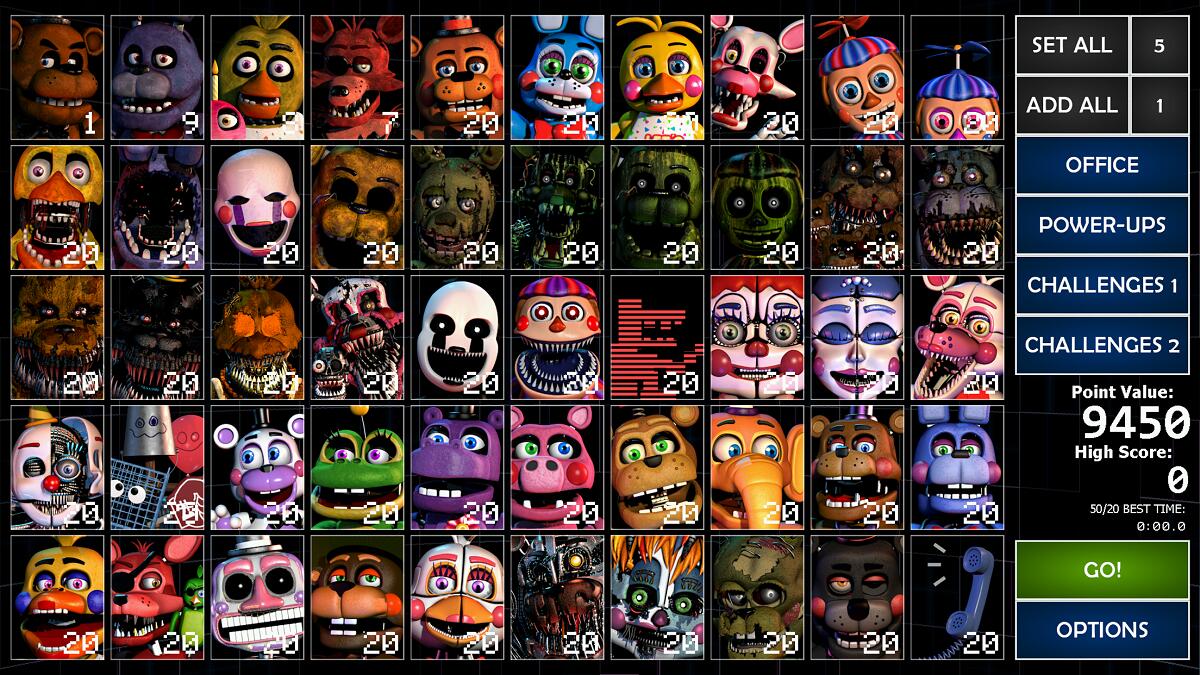 Dive into the 5 Most Typical Features and Functions
Character Customization Galore:
At the heart of Ultimate Custom Night is the power to create your personalized horror scenario. With 50 different animatronics to choose from, each with adjustable difficulty settings, you're the architect of your own fears. This isn't just about picking the spookiest or your favorite robots; it's a deep strategic choice. Balancing characters that you can handle with those that will push your limits is the key to a truly engaging experience.
The Office - Your Arena:
Your office isn't just a set piece; it's your fortress, and how you manage it can mean the difference between surviving the night or becoming animatronic fodder. Monitoring doors, vents, and air hoses is just the start. You'll need to use your cameras smartly to keep an eye on the animatronic movement and respond to threats with precision and speed.
Tools of Survival:
Forget weapons; your tools are about control and manipulation. The heater can push away cold-loving animatronics, while the A/C can deter those that hate the cold. The power generator helps you keep the juice flowing, and the global music box can calm certain characters. Each tool can be a lifeline or your downfall if used incorrectly.
Economic Decisions with Faz-Coins:
The Faz-Coins add a whole new layer of gameplay, integrating an economic strategy element. Do you save up for a game-changing item, or spend as you go to ensure immediate survival? The choices you make with your Faz-Coins can dramatically alter your chances of making it till dawn.
Challenges and Rewards:
Variety is the spice of life, and Ultimate Custom Night knows it. With 16 themed challenges, the game keeps you on your toes, pushing you to adapt and overcome increasingly difficult obstacles. And for your troubles? Unlockable skins and cutscenes that provide a respite from the horror and a reward for your tenacity.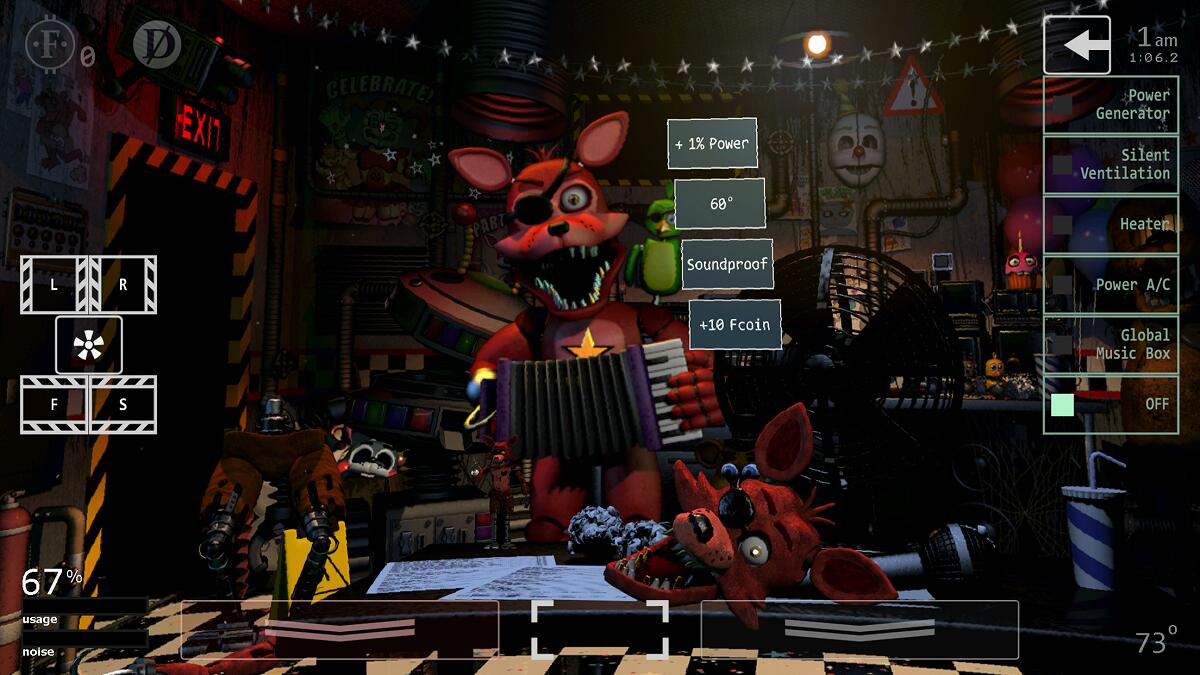 Best Tips for Mastering Ultimate Custom Night
Knowledge is Power: Familiarize yourself with the patterns and behaviors of animatronics. Knowing your enemy is half the battle.

Balance is Key: Don't overcommit to one defense strategy. Balance the use of your tools and keep a level head to ensure you can adapt to any situation.

Patience and Timing: Rushing can lead to mistakes. Take your time to make informed decisions, and know when to act swiftly.

Memory Matters: Remember the locations and paths of animatronics. As the night progresses, this memory game can save your skin.

Customize to Learn: Use the customizable difficulty settings to incrementally increase the game's complexity as you learn. There's no shame in starting slow to become a master.
The Good and the Bad of Ultimate Custom Night
Pros:
Deep customization for diverse gameplay.

The strategic element is strong and rewarding.

Each game session is unique, leading to high replayability.

The sense of achievement is tangible with each victory.
Cons:
The complexity can be off-putting for newcomers.

The horror element can be too intense for some players.

The high level of multitasking required can be daunting.
Alternative Gaming Experiences
For those who love the thrill of survival horror but are looking for a twist, try:
"Bendy and the Ink Machine": It offers a different aesthetic but similar tension.

"Hello Neighbor": A game where stealth and strategy combine to outwit a menacing foe.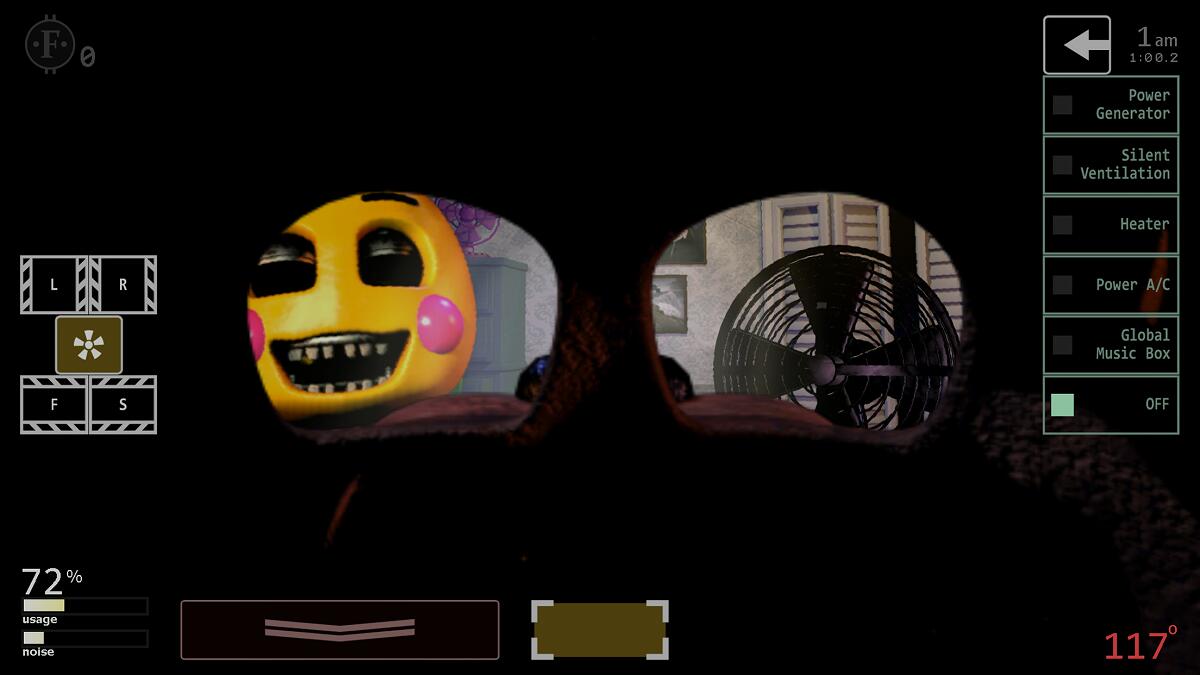 Frequently Asked Question (FAQ)
What can I do if I find the game too challenging at the start?
Begin by setting the difficulties of the animatronics to a lower level. This way, you can gradually get used to their patterns and behaviors. Also, use the first few rounds as learning experiences rather than aiming to win, so you can build your skills without the pressure.
Is there a way to predict the animatronics' movements?
Yes, each character has its own set of patterns and triggers. Spend time observing them through the surveillance cameras. With experience, you'll learn their tendencies, which will help you anticipate their moves.
How important is resource management in the game?
It's crucial. Managing your power, using your tools wisely, and deciding when to spend your Faz-Coins can all impact your ability to survive the night. Think of it as a balancing act; don't overuse resources early on.
Are there any breaks or pauses within the game to prepare for the next wave of challenges?
The game does not pause, but earning and watching the unlockable cutscenes can offer a brief mental respite from the tension. Use these moments to relax and prepare for the next challenge.
If I'm not good at multitasking, can I still enjoy the game?
Absolutely. While the game does require multitasking, you can improve over time. Start with fewer or less aggressive animatronics to manage and gradually increase the complexity as you become more comfortable with the game mechanics.
Conclusion
Ultimate Custom Night serves as a daunting yet addictive amalgamation of strategy and horror. It pulls you into a world where every decision, every movement, and every moment can lead to either triumphant survival or terrifying defeat. As a rich, customizable experience, it's tailored to both fans of the Five Nights at Freddy's series and newcomers alike, offering endless nights of challenging gameplay. Dive in—if you dare—and see if you can outlast the animatronics in this ultimate test of nerve. Ready for the challenge? Head over to Getmodnow.com and let the night begin.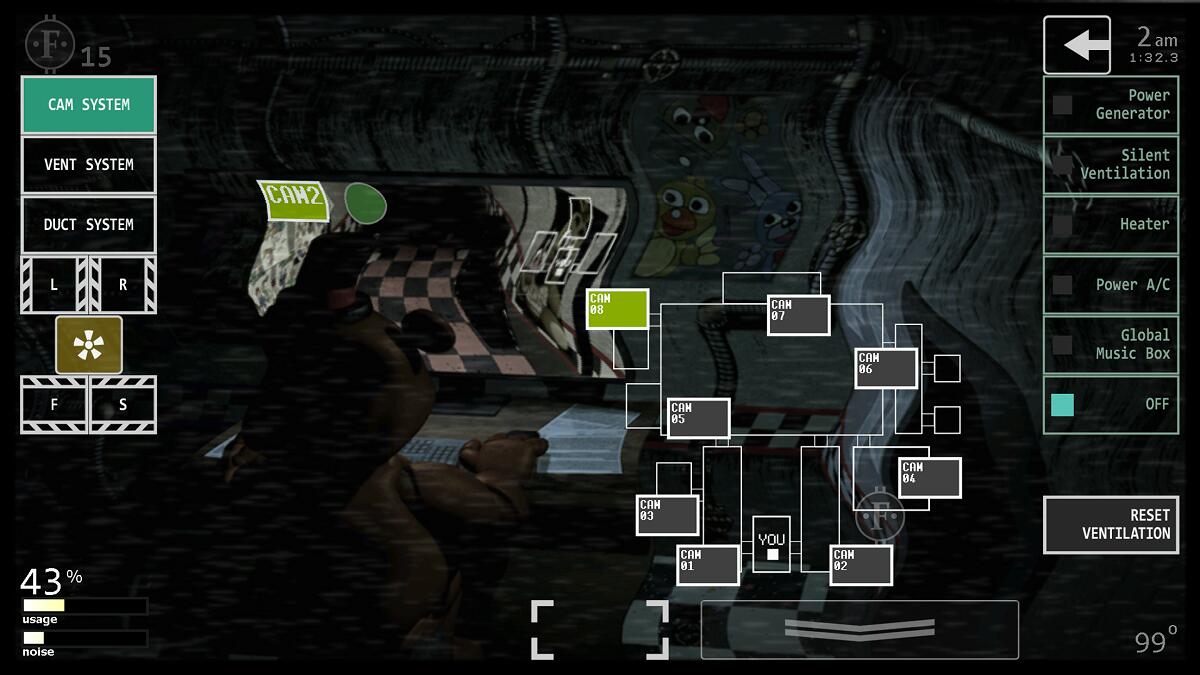 Free Download Ultimate Custom Night APK (Unlimited Power) Latest Version for Android
If your heart's racing with anticipation, it's time to take action. Download Ultimate Custom Night at Getmodnow.com. Trust us; it's a survival challenge you don't want to miss out on.