WPS Office is a versatile app that packs an extensive suite of office tools. At its core, it's an all-in-one platform for handling Word documents, PDFs, spreadsheets, and presentations. Think of it as your mobile workstation, allowing you to carry your office in your pocket.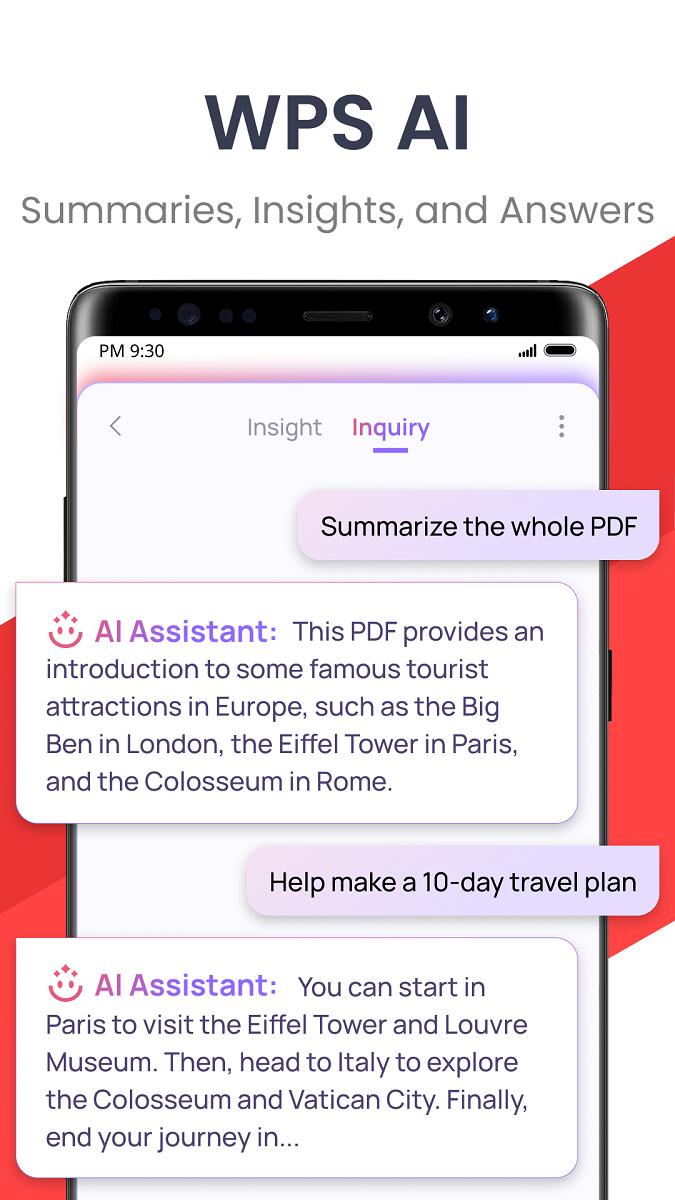 Five Signature Features of WPS Office
All-in-One Office Suite
WPS Office is a robust office suite that enables you to manage various document types. It's not just about viewing; it's about creating, editing, and sharing, too.
Word Processing: Tailor your documents with advanced editing and formatting tools. Whether it's a resume or a report, the app handles it.
Spreadsheets: Comes with all the computational tools you'd expect, supporting complex data analysis on the fly.
Presentation Maker: Build impactful presentations with a suite of design and animation tools that can give any pitch that extra flair.
PDF Management: View, annotate, and convert PDFs seamlessly, simplifying what was once a challenging task on mobile.
WPS AI Integration
Artificial intelligence in WPS Office is a game-changer, particularly with features like AI-generated content and OCR.
AI-Generated Content: Need a quick summary or an outline? The AI leaps into action, crafting content based on your prompts.
AI-Powered Rewriting: Improving your documents is easier than ever with the AI's ability to rewrite and polish text.
ChatPDFs: Interact with PDFs conversationally, as the AI assists with summaries and translations.
OCR: Transform images and scanned docs into editable text, making digitization a breeze.
Cloud Services and Collaboration
Cloud storage integration means your documents are accessible anytime, anywhere.
Real-Time Sync: Work across devices without a hitch. Your latest edits are always at your fingertips.
Team Collaboration: Share and edit documents with your team in real-time, boosting productivity and teamwork.
Generous Storage Options: With 1 GB free and more available, there's ample space for all your documents.
PDF Tools
PDFs are no longer a hassle. WPS Office offers extensive PDF tools that rival desktop experiences.
Comprehensive Reader: Not just for viewing, you can annotate and sign PDFs directly within the app.
Conversion and Scanning: Turn any document into a PDF or digitize physical papers with ease.
Editing and Watermarking: Modify PDFs and secure them with watermarks, ensuring your work is protected.
Mobile-Optimized Design and Compatibility
The app shines in its mobile design and compatibility.
User-Friendly Interface: It's optimized for touch, ensuring a smooth, intuitive experience.
File Compatibility: Works with most popular formats, ensuring you can work with almost any document you encounter.
Remote Access: Use your cloud storage to access files anywhere, bringing your office with you.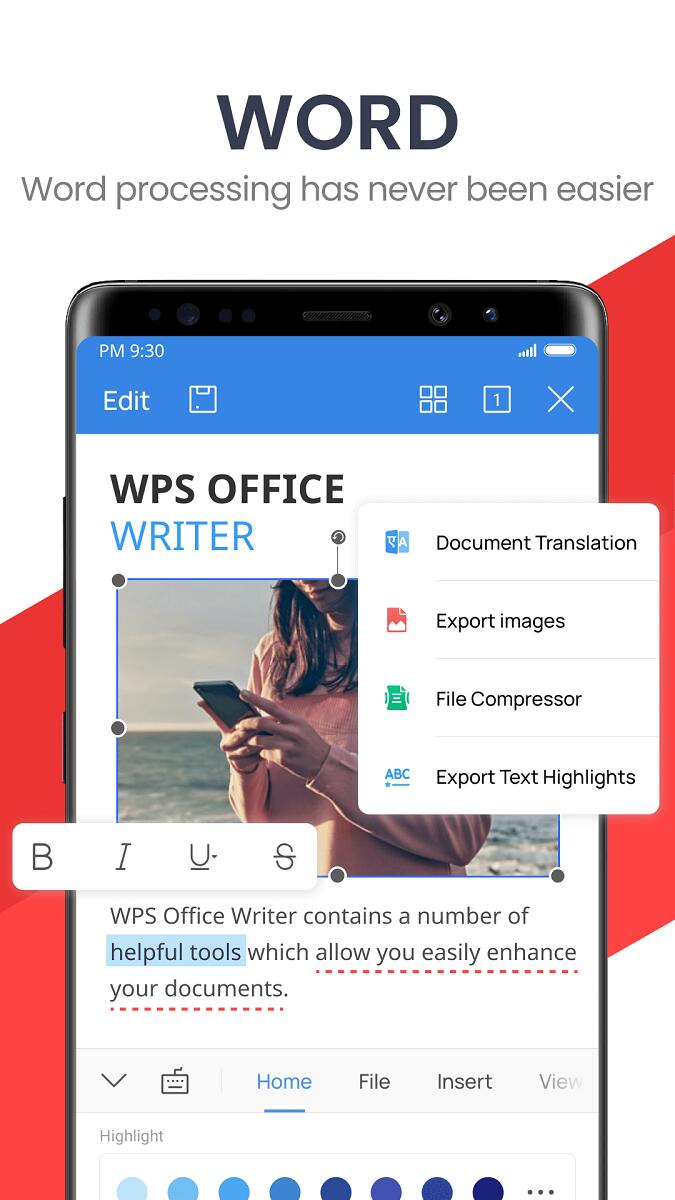 Top Tips for WPS Office Users
Sync Across Devices: Make the most of WPS Office's cloud capabilities. By syncing your documents across devices, you ensure that you're always working on the latest version of a document.

Utilize Templates: Jump-start your document creation with templates. Whether it's a budget spreadsheet or a business presentation, templates save you time and effort.

Customize Your Workspace: Tailor the app settings to fit your work style. Adjust the view options, enable or disable editing features, and set your preferred default formats.

Master PDF Management: Don't shy away from the PDF tools. Learn to navigate this powerful feature set. Edit, annotate, convert, and even merge PDFs all within the app.

Explore WPS AI: Use the AI features to enhance your productivity. From content generation to summarizing PDFs, let the AI do the heavy lifting.

Collaborate Efficiently: Share documents with colleagues and work on them together in real-time. The collaboration tools are robust and can significantly streamline group projects.

Protect Your Documents: Take advantage of the security features. Use passwords and watermarks to keep sensitive information safe.

Stay Updated: Keep the app updated to take advantage of the latest features and improvements.
The Pros and Cons of WPS Office
Pros:
Comprehensive Suite: It's a complete office suite, fulfilling most document handling needs.

AI Integration: The AI features are not just novelties; they provide real, practical benefits.

High Compatibility: Supports a wide range of file formats, making it versatile.

Mobile Optimization: The interface and tools are designed with mobile use in mind.

Free Features: Many of its core features are free, making it accessible to anyone.
Cons:
Limited Free PDF Editing: For more advanced PDF features, you need to upgrade.

Occasional Ads: The free version comes with ads, which can be a distraction.

Learning Curve: With so many features, new users may take time to find their way around.
Alternative Office Apps
Consider these alternatives if WPS Office isn't your cup of tea:
Microsoft Office: The original powerhouse with Word, Excel, and PowerPoint.
Google Workspace: A cloud-native suite with Docs, Sheets, and Slides.
Apple iWork: Pages, Numbers, and Keynote offer a sleek experience, especially for Apple users.
LibreOffice Viewer: An open-source option for document viewing and light editing.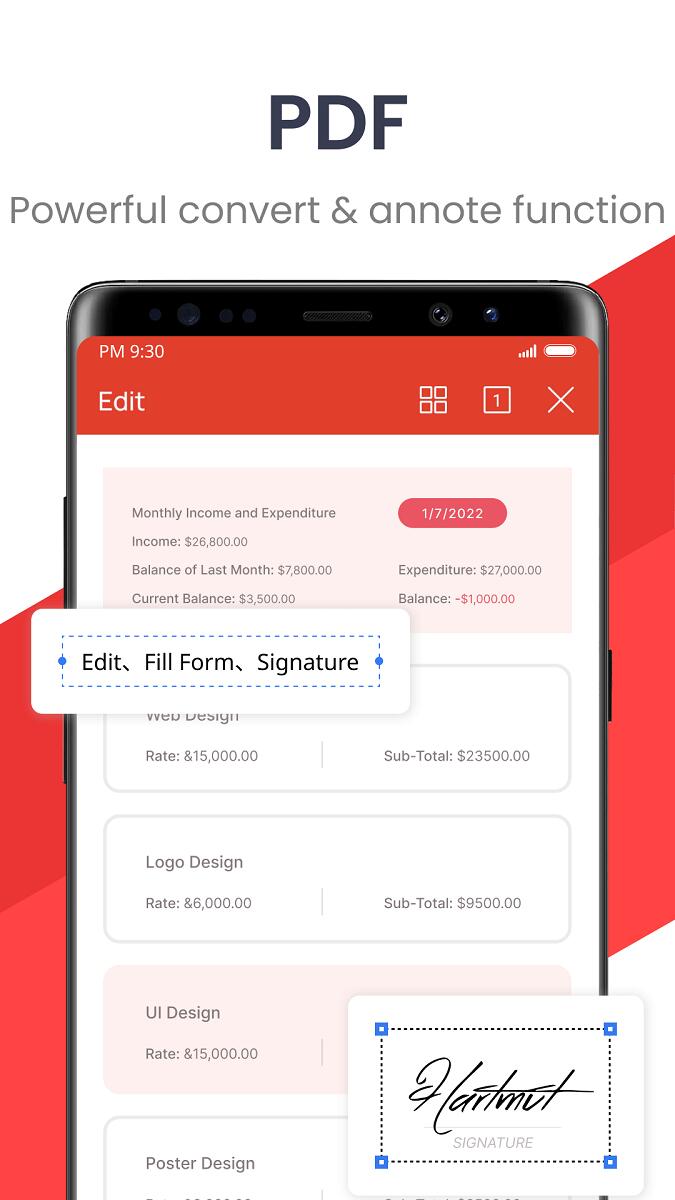 Frequently Asked Questions (FAQ)
What is WPS Office and what can I do with it on my Android device?
WPS Office is a comprehensive office suite that lets you create, view, edit, and share documents right from your Android device. It integrates tools for word processing, spreadsheet management, presentation creation, and PDF operations. You can use it to work on documents anytime and anywhere, collaborate with others in real-time, and sync your work across devices through cloud storage.
Does WPS Office offer any AI-powered features?
Yes, WPS Office comes with a range of AI-powered features such as AI-generated content for quick creation of summaries and other documents, AI-powered rewriting for improving the quality of your text, ChatPDFs for interactive PDF handling, and AI-powered OCR to convert images and scanned documents into editable text formats.
How does cloud storage work in WPS Office and is it safe to store documents there?
WPS Office provides cloud storage capabilities, allowing you to save and sync documents across multiple devices in real-time. With 1 GB of free cloud storage and the option for more, you can access and edit your office documents on your mobile phone and computer securely. WPS Office uses encryption and other security measures to ensure your documents are safe and private.
Can I edit PDFs in WPS Office, and what are the PDF tools available?
Yes, WPS Office has an array of PDF tools. You can open, view, share, and comment on PDFs. The suite allows you to convert office documents to PDF, scan paper documents into PDF format, and provides PDF annotation, signature, extraction/split, and merge capabilities. However, for advanced editing features, you might need the paid version of the app.
Are there any alternatives to WPS Office if it doesn't meet my needs?
Absolutely, if WPS Office isn't quite what you're looking for, there are several alternatives to consider. Microsoft Office offers comprehensive tools with Word, Excel, and PowerPoint. Google Workspace is great for those who prefer cloud-based apps with collaborative features. Apple iWork is ideal for Apple device users, and LibreOffice Viewer offers a free, open-source option for document viewing and basic editing.
Conclusion
WPS Office stands out as a comprehensive, mobile-friendly office suite. It balances advanced features with user accessibility, making it a formidable tool for anyone needing to manage documents on the go.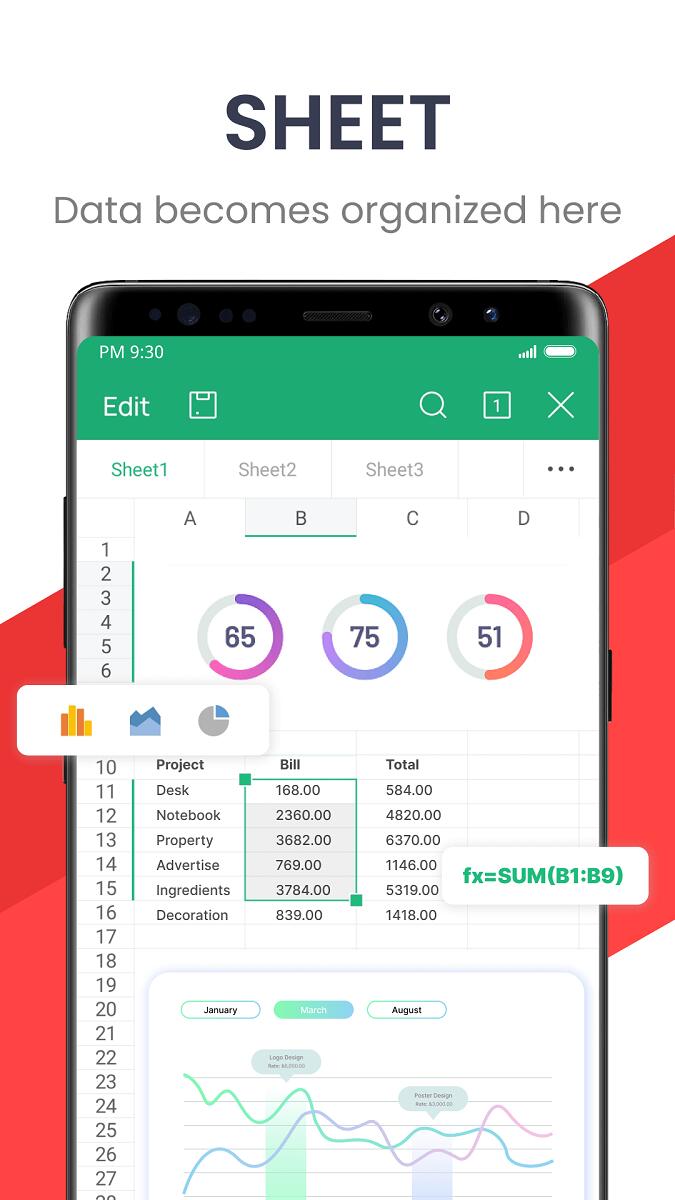 Free Download WPS Office Mod APK (without watermark, Premium Unlocked) Latest Version for Android
Ready to turbocharge your mobile productivity? Download WPS Office from Getmodnow.com, a trusted source for your app needs. Don't miss out on the convenience of a full office suite at your fingertips. Download now and transform your device into a document management powerhouse!